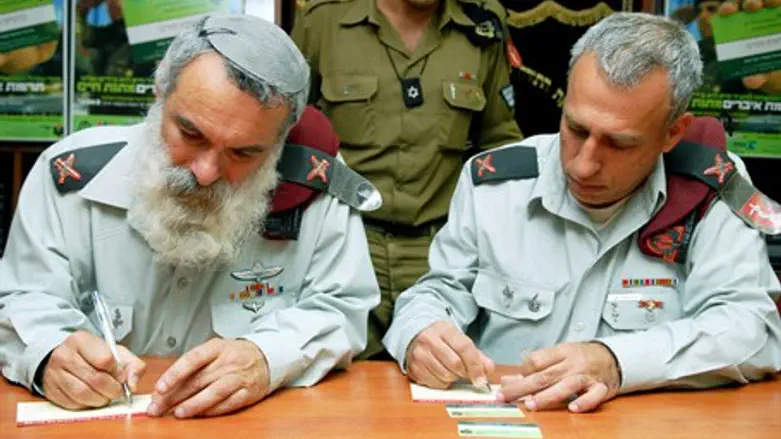 Rabbi Ronsky (left), during his time as IDF C
Flash 90
Rabbi Avichai Ronsky, head of the yeshiva in Itamar, northern Samaria, slammed Finance Minister Yair Lapid on Thursday over his decision to retroactively cut yeshiva funding.
"The Finance Minister's underhanded move in stopping to budgets to yeshivas, even those whose students have enlisted, throws heavy doubt on the honesty of his intentions," Rabbi Ronsky said, in a post to his Facebook page.
Like many others, Rabbi Ronsky – who formerly served as chief rabbi of the IDF and whose yeshiva identifies with the religious-Zionist stream, who do serve in the army – warned that the approach taken by Lapid, and by the Supreme Court, is likely to hurt the cause of hareidi army recruitment.
"The general anger, in both the hareidi yeshivas and the Zionist yeshivas, over this draconian measure of stopping the budget overnight is creating a sense of detachment from the state that is likely to boomerang and hurt hareidi enlistment," he warned.
The solution, he said, is to encourage hareidi enlistment without threats. "Only moderate progress in the number of recruits – a trend which began some years ago, to the satisfaction of the IDF Manpower Directorate, without any threat of any kind of punishment – will bring about the reality we are all hoping for, of cooperation and of sharing the beloved 'burden' of Israel's security," he declared.
The Supreme Court ruled Tuesday that the state can no longer provide funding to yeshivas for students aged 18-20 who have not enlisted in the IDF. Lapid decided to apply the ruling to the February budget transfer that was already underway, ordering it cancelled.
MK Ayelet Shaked (Jewish Home), who heads the Knesset committee tasked with drafting a new law on hareidi enlistment, said Wednesday that the Supreme Court ruling will ultimately be inconsequential. The new law should be ready by March, she explained, meaning there will be little if any practical impact to the decision.