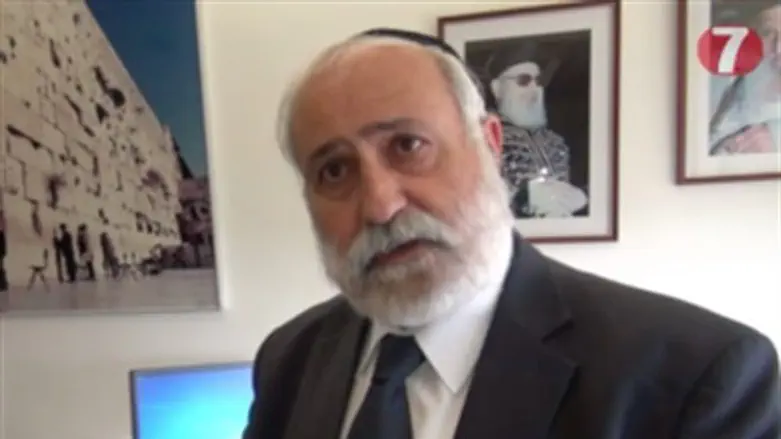 MK Nissim Ze'ev
Yoni Kempinski
MK Nissim Ze'ev of the hareidi-religious Shas party has issued a scathing condemnation of the Supreme Court ruling barring the government from transferring funds to yeshivas.
The ruling means the Education Ministry can no longer fund yeshiva students ages 18-20 if they have not enlisted in the army, despite a decision made by Defense Minister Moshe Ya'alon to postpone the students' draft.
"This is an outrage, it's an ongoing campaign of persecution," Ze'ev accused, speaking to Arutz Sheva. He added, "The government is attacking everything connected to religion or to the Torah world."
The Supreme Court ruling came as an intermediate order in an appeal by several NGOs seeking to force the government to recruit hareidi yeshiva students to the army immediately.
The NGOs in question are motivated entirely "by their political agenda," Ze'ev charged. One of the NGOs involved, Hiddush, is headed by the former head of the Reform movement's political arm in Israel.
Zev urged the government to recognize full-time Torah students as contributing to the Jewish state. "We are loyal to the state, we pay taxes. Let them recognize that we are preserving Judaism," he said.
"Even Ben Gurion realized that without Torah, we would have no right to exist here," he added.
Ze'ev noted that thousands of hareidi men have enlisted in the IDF by choice. "We can reach that point without compulsion, without criminal sanctions," he urged.
Minister of Economy Naftali Bennett recently warned that attempts to force hareidi enlistment by punishing yeshivas will set back the cause of hareidi integration. Rabbis involved in army programs for hareidi soldiers have issued similar warnings.