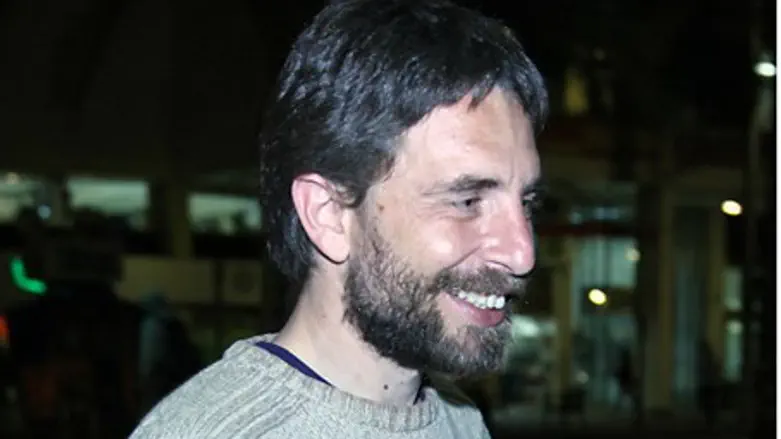 Adam Verete
Flash 90
Akko police on Monday closed the case on complaints filed by Adam Verete, the controversial teacher who was recently allowed to return to the classroom after it was revealed he has been pushing a radical leftist agenda on his students.
Last week Verete complained to police that he and his family felt "threatened," mostly by things written about them and to them on the internet.
Verete spoke in an interview to Channel 10 last week about how threatened his family feels: "my wife sleeps with a baseball bat under her pillow. Who knows who the next crazy is."
Students reported that aside from calling the IDF "immoral," Verete said in class that "the state did not belong to the Jews at all but to the Arabs, and as far as he was concerned, the Jews had no business being in Israel at all." The teacher also expressed his support of Hadash, the Israeli communist party.
Police sources said the "threats" consisted of statements made in online chats and Facebook comments, and that according to police estimation were not an actual danger.
Despite reportedly apologizing to ORT during a committee hearing, Verete on Saturday night remained defiant, saying "as long as the opinions that are sounded are not racist or inciting violence, every opinion deserves to be heard." His friend Ram Cohen, a Tel Aviv principal, clarified last week that freedom was reserved for leftists.
A night of honor for Sapir Sabah
Sapir Sabah, the student who complained about Verete's attack on the IDF and attempts to push his views, is expected to petition the ORT educational network on Tuesday for letting Verete off with a warning and sending him back to teaching after the teacher "took back some of the things he said."
Sabah has refused to return to the Kiryat Tivon high school near Haifa where she was subjected to Verete's ideological teaching as a sign of protest.
In response to Sabah's efforts to expose Verete's classroom diatribes against the IDF, former MK Dr. Michael Ben-Ari has organized an event honoring the high school student. The event, set to be held next Sunday in Kiryat Tivon with IDF soldiers in attendance, was announced on the Facebook pages of Ben-Ari and his Otzmah Leyisrael party.
"The education system betrayed Sapir Sabah," accused Ben-Ari on Facebook. "It betrayed the Zionist youth, and stipulated support for anti-Zionism. ...After the crazy left has taken sides with Adam Verete, it's time for the sane people to back up Sapir and the Zionist youth."
While leftist groups have strongly supported Verete's right to preach politics in the classroom, a far-left campaign attempted to prevent Ben-Ari from teaching at Ariel University. Ben-Ari holds a doctorate in Land of Israel Studies, and specialized in the archaeology and history of the Temple Mount, the topic he is teaching at Ariel. Leading Israeli publicist Ben Dror Yemini recently called out the Israeli Left for its apparent double standards and "McCarthyism" over the issue of political censorship at educational institutions. 
Last week attorney Aharon Papo remarked that nationalist camp MKs were remarkably silent on the whole Verete affair. According to Papo, current MKs are afraid of how the media will portray them, remarking "that's the disease of the right, they aren't ready to take a side."