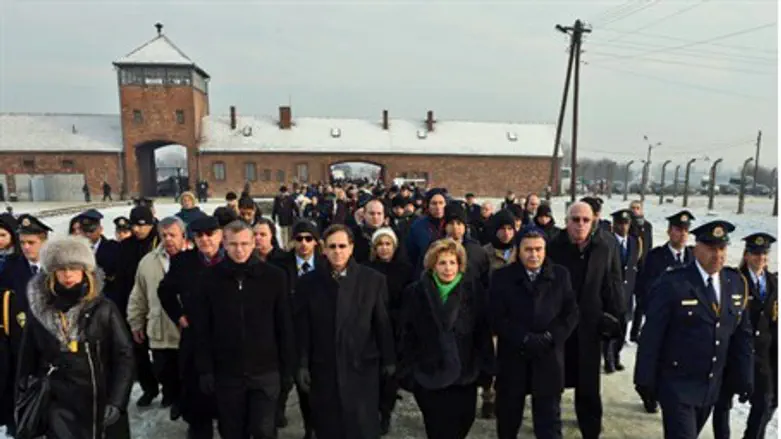 Knesset, Polish Parliament march through Ausc
Flash 90
For International Holocaust Remembrance Day this Monday, a unique visit of Israeli MKs to the Nazi death camp of Auschwitz in Poland was organized by the Mimaamakim (From the Depths) project. Johnny Daniels, a leader of the project, spoke to Arutz Sheva about the trip's goal.
Daniels reports the mission was "to stand together with the survivors that are still with us while we can." The visit brought 357 people from Israel, including MKs from the entire political spectrum, as well as Chief Rabbi David Lau, Supreme Court judges and others. 
While "never again" is said frequently about the Holocaust, Daniels remarks "the reason why it will never happen again is because we have the state of Israel." To emphasize this point, the project sought to bring leaders from the Jewish state to the death camp.
Manhattan billionaire Stewart Rahr, who supported the Mimaamakim project, visited Auschwitz as well, where he said his goal was to instill the message of "never forget" in future generations.
Daniels previously spoke about setting up the visit. "I signed a contract with the management at Auschwitz on the table in the conference room where the heads of the Nazi movement once sat, and I signed a contract to bring the Israeli Knesset – that's our power."
During the visit, MK Naftali Bennett (Jewish Home) asked "where was the US during the Holocaust?" The question sparked Mark Langfan, Chairman of Americans For a Safe Israel (AFSI), to cite Holocaust historian Rafael Medoff's research indicating the US purposely did not bomb Auschwitz because it feared an influx of Jews.