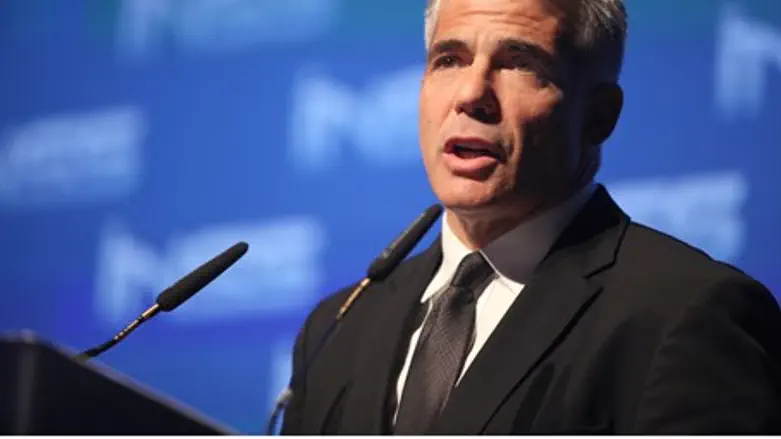 Finance Minister Yair Lapid at INSS conferenc
Flash 90
Finance Minister Yair Lapid, head of the Yesh Atid party, on Wednesday evening launched a scathing attack on nationalists, dismissing their warnings that a Palestinian state would be dangerous to Israel.
"We're tired of the right's unfounded prophecies of doom," stated Lapid in a speech at the Institute for National Security Studies (INSS) in Tel Aviv.
He declared that if the peace talks with the Palestinian Authority (PA) fail, Israel's economy will be hurt, thus dismissing recent comments by Economy Minister Naftali Bennett who said that a Palestinian state will crush the Israeli economy.
"If the negotiations with the Palestinians get stuck and we enter the reality of a European boycott, even a partial one, the Israeli economy will retreat, every Israeli citizen will be hit directly in his pocket, the cost of living will rise, budgets for education, health welfare and security will be cut, and many international markets will be closed to us," warned Lapid.
"33% of Israeli trade is with the European Union," he continued. "If there is no political settlement and we enter a scenario where our economy drops 20% in exports to the EU, the impact on the GDP would be 11 billion shekels annually, and 9,800 employees will be laid off immediately."
"These figures would dramatically bump up the cost of living that is already expensive here and threatens Israeli society and the Israeli middle class," said Lapid. "It will also raise the price of food, cars, transportation, telecommunications, electricity, and of course cut budgets for education, welfare, health and defense."
He further said that data shows that reaching an agreement with the PA will lead to savings of 20 billion shekels a year and a potential growth of about 16 billion shekels a year in exports of goods and services.
"Minister Bennett 's statement that reaching an agreement would bring down the Israeli economy is not in line with any research we've conducted," Lapid said, adding, "We do not need to make peace at any price, but we should reach an effective separation from the Palestinians."
The Finance Minister also had harsh words for Defense Minister Moshe Ya'alon, who recently said that if faced with a choice between foreign pressure or a failed compromise with the PA, leading to "rockets from Jenin and Ramallah...on Ben Gurion Airport, then a European boycott is preferable."
"Ya'alon's statement that 'the alternative to a European boycott is rockets from Shechem, Jenin and Ramallah on the Ben Gurion Airport' does not stand the test of facts," charged Lapid. "If we don't reach a political settlement because of the conduct of Israel, we will have a European boycott, a serious economic crisis, a secluded economy with a massive brain drain, layoffs of tens of thousands of employees and we'll still have rockets from Shechem, Jenin and Ramallah on the Ben Gurion Airport."