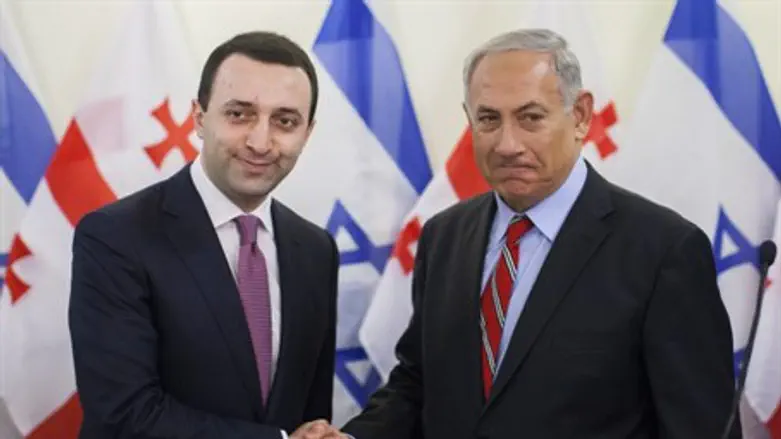 Binyamin Netanyahu and Irakli Garibashvili
Flash 90
Irakli Garibashvili, the Prime Minister of Georgia, met with Prime Minister Binyamin Netanyahu on Tuesday in Jerusalem, while in Israel to sign a trade deal. During the visit the two stressed their desire to continue expanding ties and bilateral trade.
Both leaders stressed the historical nature of the two nations' connections, with Netanyahu commenting "the Jewish community in Georgia I think dates back thousands of years...so this is a natural bridge."
"The Jewish people first came to Georgia after the destruction of the First Temple in 586 BC," added the Georgian prime minister. "Since then Georgia has become your second home, where they were accepted, loved, respected. ...And this will continue and we'll make sure that we strengthen this relationship."
The two noted the steps being taken to strengthen bilateral ties.
Netanyahu noted "today our Foreign Minister (Avigdor Liberman) has signed an agreement on a joint economic commission. We have every area to cooperate in, technology and water, agriculture, education, everything. And we are open to further this cooperation in all fields."
"Today we will have a first sitting of the Joint Economy Commission and the sides will sign two documents...advancing our trade and economic cooperation," commented Garibashvili, remarking on how the talks will focus on advancing bilateral trade.
The Israeli prime minister took the opportunity to comment on peace talks with the Palestinian Authority (PA), noting the necessity that Israel be recognized as the Jewish state, a condition that has been so far refused. The prime minister remarked "after all, we've only been here about 4,000 years."
Netanyahu further criticized a publication in an official PA newspaper earlier this week which claimed Netanyahu has "Nazi genes," just days before International Holocaust Memorial Day. Netanyahu slammed the incitement, calling it "a way of poisoning the atmosphere for peace. It must stop."
Garibashvili mentioned International Holocaust Remembrance Day, and relayed the story of "a prominent Georgian priest who lived in Poland during the war and was imprisoned and killed in the concentration camp of Auschwitz for helping Jewish families during the persecutions. We are always proud to say that in Georgia, anti-Semitism has been an unknown phenomenon through our history and this will be forever."
The agreement comes as Israel has been rapidly developing and diversifying its alliances.
Israel announced a joint technology fund with India on Tuesday, and Netanyahu met with Chinese Foreign Minister Wang Yi last Friday at the World Economic Forum in Davos, Switzerland to discuss the 2 nations' blossoming alliance. Last Monday, Israel signed a defense agreement with Kazakhstan.
Irakli Garibashvili, Prime Minister of Georgia, with Shimon Peres
credit: Flash90
Irakli Garibashvili with Netanyahu
credit: Flash90