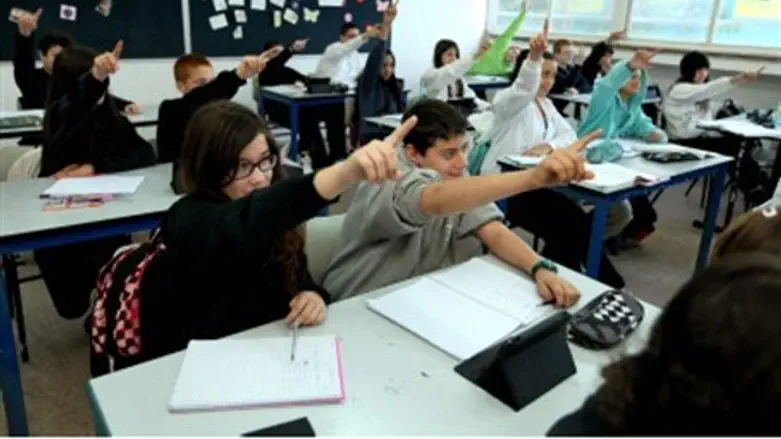 An ORT school (file)
Flash 90
Zvika Peled, the superintendent of ORT Greenberg high school in Kiryat Tivon, spoke Tuesday to Channel 10 about teacher Adam Verta who was summoned to a hearing after he spouted extremist leftist anti-IDF views to his high school students.
Peled opened his remarks by noting that he is, in fact, a member of the nationalist Jewish Home party - but that his politics are not a part of his professional life. "I don't think that I have ever mentioned my politics once in the course of my work," Peled said. "I never had the privilege of participating in any seminars or forums where I expressed my political opinions." 
Peled gave his own version of the highly publicized case, in which Verta was accused by a student of forcing leftist views on his students. The teacher turned to Education Minister Shai Piron for help, but to no avail: the Ministry is now reportedly seeking to fire Verta. 
"The student turned to the Ministry of Education over what she had witnessed," Peled recounted. "The Ministry of Education turned to us and asked us to handle the situation." Peled stressed that the Ministry turned to the school - not the other way around. 
"When a student comes to us with a complaint, we launch an investigation into the issue immediately," he stressed. "Not every complaint escalates into a hearing, but you have to understand that we met with the teacher and the school board - and at the end of the meeting he insisted that our army was 'unethical.' He did not deny some of those views during the hearing that was held [by the government]." 
He also explained that he wished not to be present at the hearing because he wanted the decision to be free of bias. "The nature of a superintendent is to influence the outcome of a hearing [affecting his school], and therefore I did not want to be there," he explained. "We are not dealing with an educational issue here but a moral issue." 
"Should a teacher who didn't serve in the IDF or complete national service be allowed to teach a civics course? We thought so - we decided to be open-minded," Peled continued. But the superintendent also emphasized that "ORT Israel views IDF service as a core value." 
The Ministry of Education responded to the case by publishing a letter to all educational staff. The letter makes no specific reference to Verta, but clarifies the regulations for teaching political issues and the role of personal opinion in the classroom. 
"There is no doubt that discussion and expressing opinions on issues relating controversies in Israeli society are an integral and essential part of teaching and meaningful learning," wrote executive director of the Ministry of Education, Michal Cohen.
"Your mission as educators is to introduce your students the opposing views in a balanced, fair and unbiased way," she continued. "You must consider very carefully in those situations whether expressing your personal opinion is conducive to the educational process and serves as an example of moral commitment, or if it could lead to a situation that involves limiting the students' freedom of thought and expression or undermining the trust between you and them. "