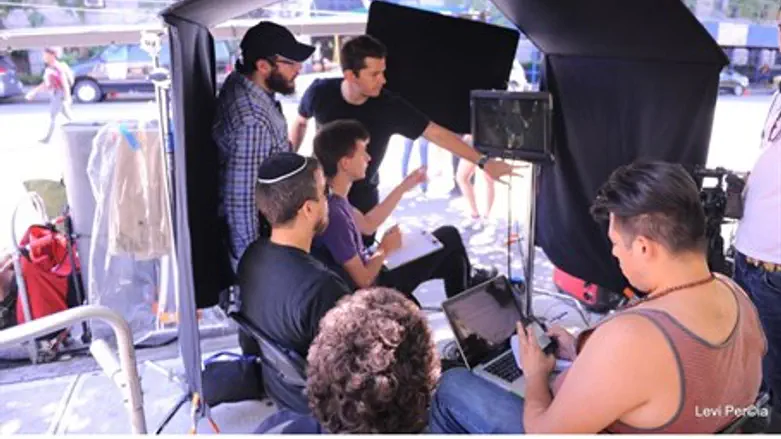 Filming Opening Night
Sparks Next Productions
The struggle to preserve and pass on the memories of the Holocaust - what happened, what it means, and what we can learn from it in the future - grows harder every year as the tragedy is farther behind us. 
But ahead of International Holocaust Remembrance Day, which takes place tomorrow (Monday), one production company has decided to approach the problem in a whole new way: through a revolutionary, and touching, documentary. 
Named Opening Night, the film explores the heart-wrenching tale of Mark, a stage performer trying to move on with his life in 1971 - but who finds himself battling with his past as an Auschwitz survivor in his journey to reconcile with his son. The film flashes back and forth between Poland, 1939 and the stage in 1971 to document Mark's inner struggle - and his performance of a lifetime. 
The project stars renowned Israeli comedian Dudu Fisher, and is the brainchild of producer Cecelia Margules and director Danny Finkelman, of Sparks Next Productions - all of whom are descendants of Holocaust survivors. 
"We were all invested emotionally in this film," Margules explained to Arutz Sheva. "We all felt it so strongly. In fact, when we sat and had a discussion, and got together as a group, it turned into a very emotional moment where all of us were in tears." 
Actors from across the religious spectrum participated in the project, which began as a response to rising anti-Semitism in Europe, according to a release. The film will be marketed to film festivals across the globe - to spread the message and truth of what really happened during the Holocaust to as many people as humanly possible - before hitting theaters on January 27. 
Cecelia Margules, Producer
credit: Sparks Next
On set
credit: Sparks Next
Dudu Fisher, playing the protagonist, during filming
credit: Sparks Next
Filming a riveting scene.
credit: Sparks Next
On set.
credit: Sparks Next