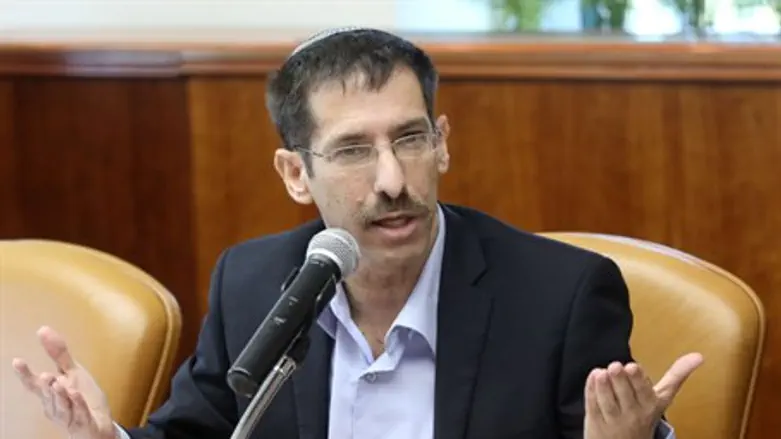 Uri Orbach
Israel news photo: Flash 90
Minister of Pensioners Affairs Uri Orbach (Jewish Home) has declared that he will oppose a proposed law that would allow terminally ill patients to commit suicide with help from doctors.
The proposal, put forth by MK Ofer Shelah (Yesh Atid), would allow doctors to proscribe fatal poison to terminally ill patients. The patient would take the poison independently, and the doctor would not bear criminal responsibility.
"I see this as a law to exterminate the terminally ill, which, like other liberal laws, pretends to be humanitarian," Orbach accused in a post to Facebook.
"The role of physicians and pharmacists is not to kill the sick, but to save them," he continued. "If someone wants to commit suicide, they don't need to do so via our healthcare system."
Orbach expressed determination to block the bill. "If, Heaven forbid, it passes the first stage [of the legislative process], I'll submit an appeal. I will do everything to prevent the authorization of this dangerous law," he declared.
"Why should a 'death pill' be considered less like killing than shooting an ill person, or smothering him with a pillow?" he challenged. "Because it has a white coat? Because it is less painful? Because that's how it is in Switzerland?"
Orbach noted that the issue of "assisted suicide" is part of a larger debate over the ways in which new technologies affect medical ethics.
"There isn't a sufficient debate on the morals of mass surrogacy, either (exploitation of poor women, organs trade, etc)," he wrote.
"The same is true with the 'death pill' at the end of life: technology is preceding ethics. Life and death are becoming another product or service for the satisfied customer. And other values? They are portrayed as outdated, in the way, because what matters is self-fulfillment and who cares about the world," he charged.