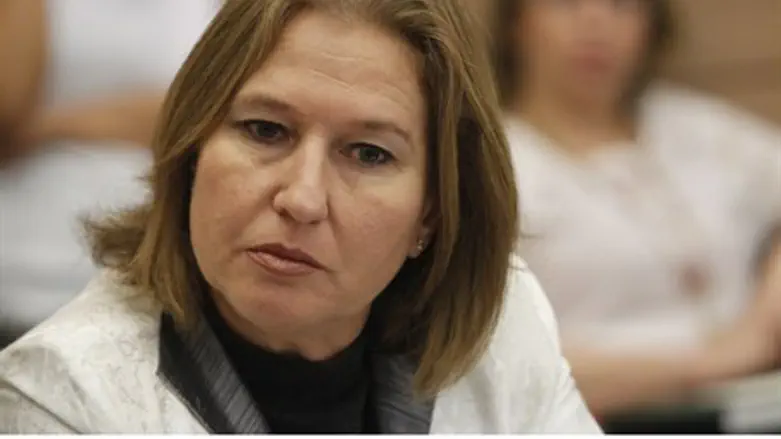 Justice Minister Tzipi Livni
Flash 90
By constantly "reminding" Israelis that they could face a boycott by Europe if the government does not capitulate to Palestinian demands and withdraw from all of Judea and Samaria, and most of Jerusalem, Justice Minister Tzippy Livni is playing into the hands of a small minority of radicals. A report in Ma'ariv Thursday said that Foreign Ministry research had concluded that nearly all the threats of boycotts in recent years were empty ones.
Livni's latest comments came in the wake of new threats by European Union officials that Israel would "pay a price" if it allowed the current talks with the PA to collapes.
Speaking to reporters in Jerusalem, Lars Faaborg-Andersen, the EU's ambassador to Israel, said that "if Israel were to go down the road of continued settlement expansion and were there not to be any result of the current talks, I'm afraid that what will transpire is a situation in which Israel will find itself increasingly isolated. Not necessarily because of any decisions taken at a governmental level but because of decisions taken by a myriad of private, economic actors, be it companies, pension funds or consumers, who will be choosing other products on the supermarket shelves."
Those comments seemed to supply fuel for Livni's warnings about a potential EU boycott.
"You cannot deal only with economic issues and ignore the political issue and the importance of a two-state solution," she said. "Europe is boycotting products. And, true, it is starting with the settlements but their problem is with Israel, which is perceived as a colonial state, so it won't only stop with the settlements, but will (reach) Israel as a whole."
But there was no need for panic, senior Foreign Ministry officials were quoted as saying. Over the past several decades, there have been several major declarations of boycotts in the EU, but most of these were by radical groups, far from the mainstream – and their threats did not materialize.
"By promoting the idea that Israel would be boycotted, she is playing into the hands of these unimportant radical groups," the officials said.