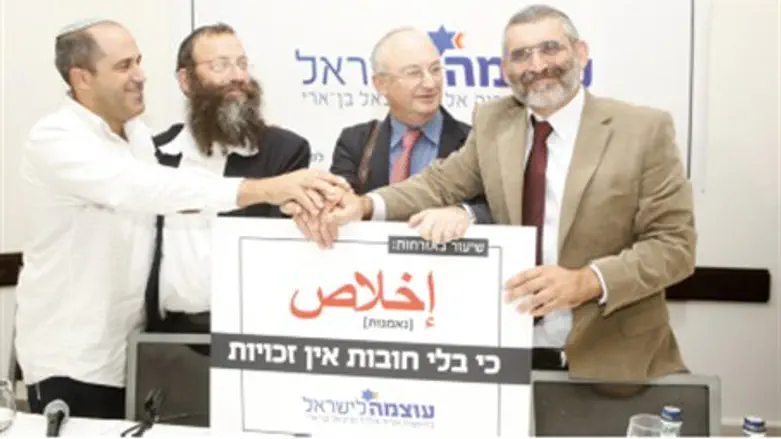 MKs Eldad, Ben Ari with Baruch Marzel and Ary
Israel news photo: Flash 90
According to a poll ordered by Channel 1's news debate show Politika, the nationalist bloc would gain strength if elections were held today, from 43 to 50 Knesset seats, and would include the nationalist Otzma Leyisrael party, which failed to enter the current, 19th Knesset.
The poll gives the traditional coalition of nationalists and hareidim 67 seats, up from the current 61.
Likud-Beytenu would receive 34 seats, up from the current 31, while the Jewish Home edges up by one, from 12 to 13. Most notably, Otzma Leyisrael, headed by former MKs Michael Ben-Ari and Aryeh Eldad, would receive three seats - a significant improvement over their last performance in which they narrowly missed the minimum threshold. The party has campaigned hard on the issue of tackling illegal immigration and championing the rights of working-class Israelis in southern Tel Aviv - an issue which has hit headlines in recent weeks both as a result of violent crimes committed by infiltrators, as well as the high-profile demonstrations coordinated by left-wing groups.
As for the Left: Labor gets 16, up 1 from its current strength. Secularist Yesh Atid - the surprise success of the last elections - slides from 19 to 13. Far-left Meretz climbs from 6 to 7 and Tzipi Livni's Hatnua loses two seats, with 4 instead of its current 6.
The poll shows that Ashkenazic-hareidi party, Yahadut Hatorah (UTJ), would remain at its current strength of 7 were elections to be held today, and the Sephardic-hareidi Shas party would receive 10, one less than today.
Despite the slight drop in support, the figures will likely be a source of encouragement for Shas leader Aryeh Deri. Pundits had suggested the death of Shas founder and spiritual leader Rabbi Ovadia Yoseph - and the subsequent internal power struggles between Deri and former party chairman Eli Yishai - would seriously hurt the party's performance. The only minor decrease would suggest the party's support base is largely holding strong, although it is possible that the party is still riding the wave of public sympathy triggered by Rabbi Yoseph's death.