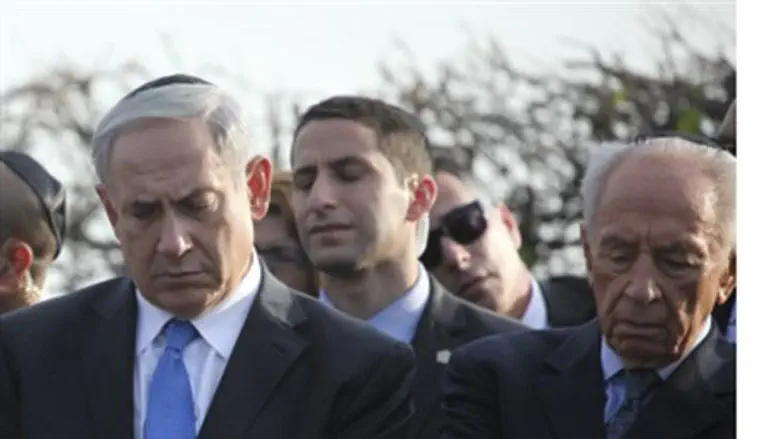 Binyamin Netanyahu and Shimon Peres at Ariel
Flash 90
President Shimon Peres has reportedly come out against Prime Minister Binyamin Netanyahu's demands that the Palestinian Authority (PA) recognize Israel as a Jewish state.
"The stubbornness of the Prime Minister is unnecessary and liable to make the peace talks fail," Peres has said regarding the issue of Israel's Jewish nature, reports Yisrael Hayom. The newspaper notes Peres refused to comment on the report.
The two are heading for the World Economic Forum in Davos, Switzerland, on Wednesday. There they will meet world leaders, but apparently present very different positions regarding Israel.
Peres has stated that "peace" is attainable in the current talks, and has pressed Israel to make enormous concessions, threatening that if it doesn't do so it "would be tragic for the Middle East. The situation in the Middle East can flare up overnight if the talks fail."
According to the report, Peres has not publicly expressed his opposition to the demands to recognize Israel, but in private conversations has said that Israel is a Jewish state and that the details of recognition should be sorted out after a PA state is created.
The PA has already formally refused to recognize Israel as a Jewish state, going on to claim"the Arab states will never recognize a Jewish state."
The PA has also charged Israel of "imposing its agenda" on peace talks by raising the issue of Israel's Jewishness, even as US proposed deals would reportedly force Israel to obligate itself through guarantees that it will not compromise the status of Israeli Arabs, and in doing so begin "earning" PA recognition of Israel as the state of the Jews.
Peres's reported comments, that recognition of Israel as a Jewish state isn't necessary, match the stated position of Finance Minister Yair Lapid (Yesh Atid) and MK Amram Mitzna (Hatnua).
The position of president is an almost completely ceremonial one in Israel. The president has no real authority and does not make policy.