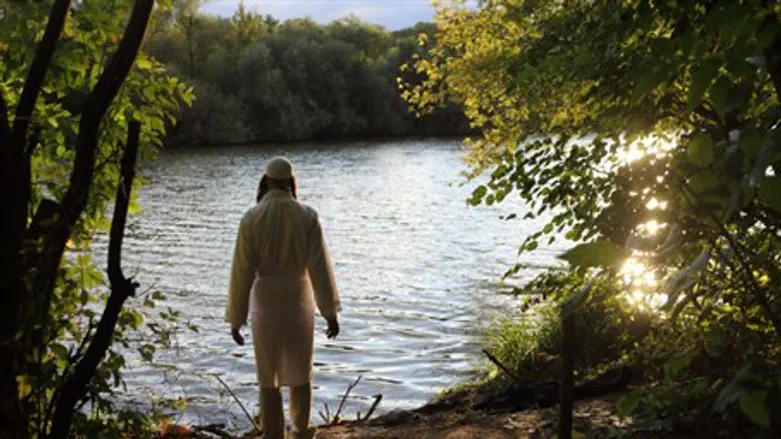 Breslov hassid in Uman visiting Rabbi Nachman
Flash 90
On Sunday a new bill was proposed in the Ukrainian parliament, according to which visitors to the grave of the famous Rabbi Nachman of Uman will be charged $100 for a day's entrance to the tomb.
Announcements indicate the fee will fund health and emergency services as well as sanitation in the area, reports Kipa. The bill has raised an uproar among Breslov hassidim, who have a custom of visiting the founder of their movement, Rabbi Nachman, on Rosh Hashanah (the Jewish new year).
Travel expenses already make the visit to the grave a financial burden. Hassidim living in Uman charge that the bill intent is to fleece the visiting Jews, and has no justification, especially seeing as the local government does not invest at all in improving or maintaining the site.
Shimon Buskila, director of the "World Breslov Center in Uman," promised to fight the initiative by all means necessary. Buskila noted "the bill is a breach of the fundamental laws of human rights and freedom."
Opposition to the Uman visits
Local anti-Semitism has marred visits to Uman in the past.
In 2011 a group of local Ukrainians organized to protest the visits to the grave. In 2010 a 19-year-old Israeli was stabbed to death near Rabbi Nachman's grave. Just last year another Breslov hassid was similarly beaten brutally near the site.
The custom of visiting the Uman grave has been met by Jewish opposition as well. One branch of Breslov hassidim declared in 2010 that its members would stay in Jerusalem for Rosh Hashanah, visiting the grave of Rabbi Nachman's student, Rabbi Yisrael Odesser, instead.
Furthermore, Rabbi Avi Zarki, a Tel Aviv rabbi who has been dubbed "the celebrity rabbi" for his high-profile connections, declared last year "it's forbidden to travel to Uman on Rosh Hashanah, period."
"Who said it was allowed to leave the land of Israel?" added Rabbi Zarki. "Who allowed running away from one's family, wife and children on Rosh Hashanah… What kind of holiday meal will the children have if their father is out of the country?"
Deputy Defense Minister Danny Danon called for Rabbi Nachman's grave to be moved to Israel back in 2011.