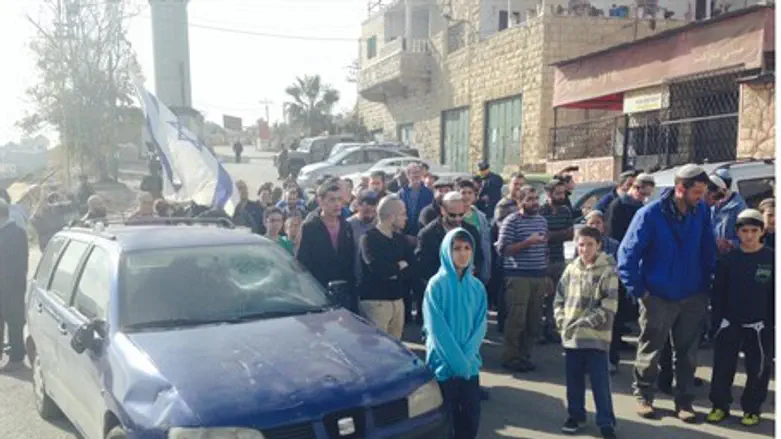 Residents of Karmei Tzur at the protest
Netanel Arenburg
Residents of the Jewish community of Karmie Tzur in the Gush Etzion Bloc staged a demonstration at the entrance to the Arab village of Beit Omar Friday, following a near-fatal attack on a local Jewish woman.
The woman - a resident of Carmei Tzur, which is situated south of Jerusalem - was driving along the Route 60 towards the town of Kiryat Arba when she was ambushed by a group of Arab youths from Beit Omar, who hurled concrete blocks and metal objects at her car.
The car suffered serious damage and the victim only escaped with her life due to having reinforced her car windows, and after miraculously managing to maintain control of the vehicle during the sudden and vicious attack.
Israeli demonstrators chanted "Am Yisrael Chai!" (the nation of Israel lives!) and danced in an act of defiance as Arab villagers looked on, and said they would not be intimidated by attacks and harassment by village residents.
The Arab settlement of Beit Omar is known as a hub of Muslim extremism; on more than one occasion, Arab residents have flown a Nazi flag over the highway next to the village, to the horror of their Jewish neighbors.
Many residents of Judea and Samaria reinforce their car windows to protect against rock-throwing attacks by Arab youths. Rock attacks targeting Jewish drivers have caused numerous death and injuries, including the recent serious injury of a two-year old girl in Jerusalem. Israeli activists recently released a video exposing how such attacks are carefully planned to cause maximum harm to innocent drivers.
The victim's car
Ya'akov Asulin