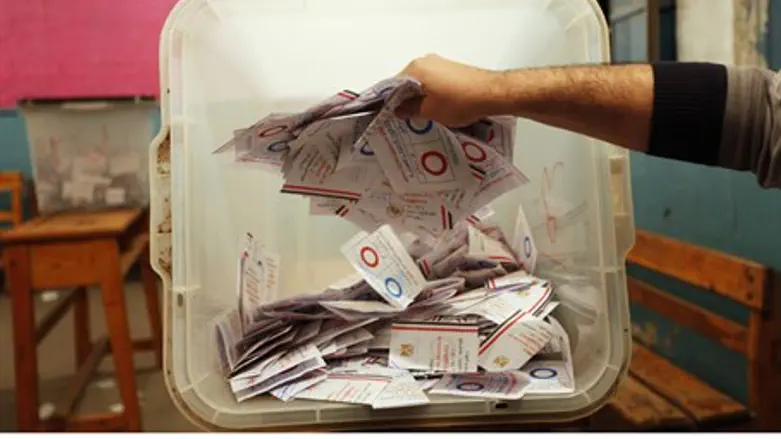 Ballots counted after referendum on Egypt's c
Reuters
Egypt's military-installed authorities on Thursday hailed a "high turnout" in a constitutional referendum they had billed as an opportunity for voters to pass verdict on last year's overthrow of Islamist president Mohammed Morsi.
According to AFP, preliminary tallies reported by state media suggested that more than 90 percent of votes cast had been in support of the new charter, with a 39 percent turnout in most provinces in the two days of polling.
Official results are expected by Saturday, the report noted. The tallies appear to confirm comments made by a senior official, who said on Wednesday night that Egyptian voters had overwhelmingly approved the new constitution.
Aides said army chief Abdel Fattah al-Sisi, who toppled Morsi following mass protests against his one-year rule, was closely monitoring the vote to assess whether he had sufficient popular support to stand for the presidency himself in an election promised for later this year.
Sisi has said he would run for president if the people demand it, and an approval of the constitution that was drafted by a panel appointed by the military-led government would likely convince him that the people are indeed demanding he run.
The outcome of the referendum has never been in doubt as Morsi's Islamist supporters called a boycott.
Ehab Badawy, spokesman for the interim president, "remarked, on the high turnout in the referendum, that it was a beautiful day for Egypt and democracy," a statement said.
The government said the vote showed support for Morsi's overthrow.
"This was also a referendum on June 30," said government spokesman Hany Salah, referring to the day when millions of protesters took to the streets demanding Morsi's resignation.
A coalition led by Morsi's Muslim Brotherhood, which has organized near daily rallies against his overthrow, claimed the referendum was a "farce" and pledged further protests.
"We will continue the days of rage," the Anti-Coup Alliance said, according to AFP.
A student was killed on Thursday in clashes between Morsi supporters and opponents at Cairo University, the interior ministry said.
The interim government in Cairo recently declared the Muslim Brotherhood a terror organization and renewed its wide-ranging crackdown on Brotherhood members and supporters, a fact which has caused even more clashes in already tense Egypt.
The referendum has put the Islamists on the back foot, and gives the government even less incentive to negotiate with Morsi's movement, noted AFP.
The referendum may also result in the United States restoring the aid it froze to Egypt several months ago, in protest over the bloody violence in the country.
A clause inserted into a broad federal spending bill, which is expected to pass as early as Friday, authorizes Washington to send $975 million to the Egyptian government.
This could be activated provided the U.S. administration certifies that Egypt "has held a constitutional referendum, and is taking steps to support a democratic transition in Egypt."