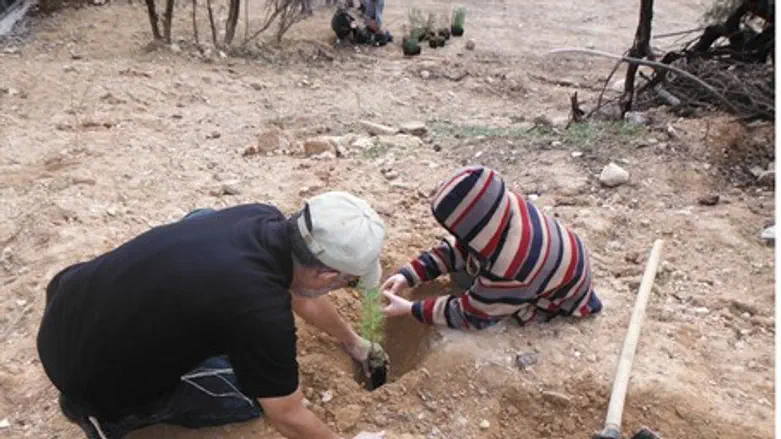 Tree planting for Tu Bishvat
Ben Bresky
Across from the busy gas station at the corner of the Pat Intersection just before it turns into Begin Highway is a large patch of undeveloped land called Emek Hatzva'im, or Gazelle Valley. This month, work began to turn the area, also referred to as Pri-Har Valley, into a park with a soccer court and open space for the small herd of native gazelles to graze. A tough fight in the Jerusalem Municipality resulted in plans for new commercial area to be cancelled.
On Tuesday, a group of volunteers planted trees in anticipation of the holiday of Tu Bishvat, the Jewish New Year for the Trees which began Wednesday evening and will last until sunset Thursday.
Rotem Palti, a young national service volunteer from the north of Israel spoke to Arutz Sheva's Israel National Radio about the land and his work.
To hear the interview in streaming audio click here.
"This is considered an urban nature park because it's like an oasis within the city limits," Palti explained. "There a lots of buildings, people, cars and noise and right here there's a place where people can come and connect to nature and just forget about the troubles of the city for a bit. We need to preserve this place. 
Among his jobs are planting and trimming trees, and making sure wild jackals don't break through the fence and attack the gazelles. "Jackals are attracted to garbage and scraps of food that they can eat." he explains. 
He and his fellow young national service volunteers sit next to an old one story, one-room stone building, used as a storage facility, and play guitar during their break time as cars race past in the background.
Rabbi Shaul Judelman of JiVE! - Jerusalem Volunteers for the Environment, and the Teva Ivri (Hebrew Nature) organization was there as well, leading a group of volunteers in transforming a barren slope into a mini garden with diverse trees. The area was once owned by Kibbutz Ramat Rachel and used for apple groves. This month tractors began working to transform one third into children's park areas, one third a nature center and one third to remain a wildlife preserve.
"We're here to recreate the hillside that was damage due to construction," he stated, as he set down a shovel. "We're planting almond, Israeli pistachio, mastic trees, and pines. In a couple of years we'll have a little forest."
With the Holyland apartment complex looming in the background Rabbi Judelman described what the future neighborhood would look like.
"The vision for the future is we will recreate what would be the natural Jerusalem hills environment. The visitor's center will be a welcoming place for kids," he explained.
"This is a low income neighborhood and people don't always have the money to take a long trip to a park. For 2,000 years we've prayed to return to Jerusalem, but in the past thirty years people have actually been leaving due to high rents, and small apartments. Studies have been done (which show) that proximity to parks and gardens indicates a higher quality of life. So the municipality of Jerusalem has been trying to increase funding for such projects," he related. 
Rabbi Judelman highlighted the desire for the park with an anecdote about riding the bus past Tzomet Pat Junction.
"I remember when there was a vote going on in the city as to whether this was going to be a commercial zone or a park and it was a hot Jerusalem July afternoon.
"I was on the 32 bus from the center of town at about 5:00 p.m. and everyone was hot and annoyed and we were anticipating going to war, and we got stopped at the red light in heavy traffic... And every single person's head was turned to the right looking out the window and gazing at this green area. It encapsulated what this place means for the city."
For the full interview plus Tu Bishvat music, download Arutz Sheva's - Israel Beat by clicking here. For the Israel Beat archives click here.