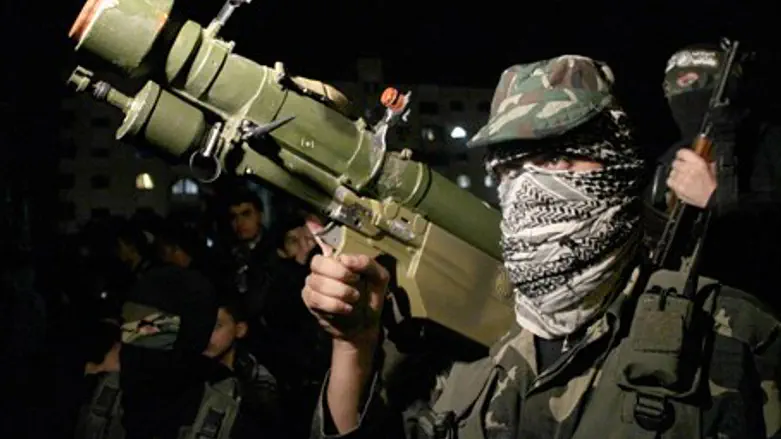 Hamas terrorist in Gaza City (illustrative)
Flash 90
Now that it has taken care of the Muslim Brotherhood at home, Egypt's military rulers plan to take on the Hamas terror group which runs neighboring Gaza, senior Egyptian security officials told Reuters on Tuesday.
According to the officials, the idea includes working with Hamas's political rival Fatah and supporting popular anti-Hamas activities in Gaza. The officials who spoke to Reuters said this could take years to pull off.
The Egyptian military has already been cracking down on Hamas, shutting down its tunnels which lead from the Sinai into Gaza. Hamas uses these tunnels to transfer goods, weapons and even terrorists.
Egypt has also blamed Hamas of being involved in teaching Islamists in Egypt how to carry out attacks. Hamas has denied the allegations.
Last month, the Egyptian army announced that it had apprehended a Hamas terrorist in the northern Sinai Desert and that he admitted that he was intending to blow up a Mercedes parked near a crucial security target.
Now, according to Reuters, Cairo is becoming even more ambitious in its drive to eradicate what it says are militant organizations that threaten its national security, meaning Hamas.
Intelligence operatives, with help from Hamas's political rivals and activists, plan to undermine the credibility of Hamas, which seized control of Gaza in 2007 after a brief civil war against the Fatah movement led by Palestinian Authority Chairman Mahmoud Abbas.
According to the Egyptian officials who spoke to Reuters, Hamas will face growing resistance by activists who will launch protests similar to those in Egypt that have led to the downfall of two presidents since the Arab Spring in 2011.
Cairo plans to support such protests in an effort to cripple Hamas, the officials told the news agency.
"Gaza is next," said one senior security official, who requested anonymity because of the sensitivity of the issue. "We cannot get liberated from the terrorism of the Brotherhood in Egypt without ending it in Gaza, which lies on our borders."
Asked why Egyptian intelligence is not going after Hamas now, another senior security official said, "Their day will come."
Egypt accuses Hamas of backing Al Qaeda-linked groups which have stepped up attacks against security forces in Egypt's Sinai peninsula over the past few months. The attacks have spread to Cairo and other cities.
The interim government in Cairo recently declared the Muslim Brotherhood a terror organization and renewed its wide-ranging crackdown on Brotherhood members and supporters.
The situation is very different in Gaza, where Hamas, an offshoot of the Brotherhood, is heavily armed, has years of experience fighting Israel, and moves swiftly to squash dissent, noted Reuters.
Most recently, a group of Gazan youths who were influenced by the youth movement that toppled Egypt's Muslim Brotherhood President Mohammed Morsi, hoped to achieve the same with the Hamas government in Gaza. Those hopes fizzled away as did the group's protests.
A Hamas official said the comments made to Reuters by Egyptian officials showed Cairo was inciting violence and trying to provoke chaos.
"We reaffirm that Hamas did not and never would intervene in the internal Egyptian affairs," Hamas spokesman Sami Abu Zuhri said. "No one should ever dream to weaken Hamas."