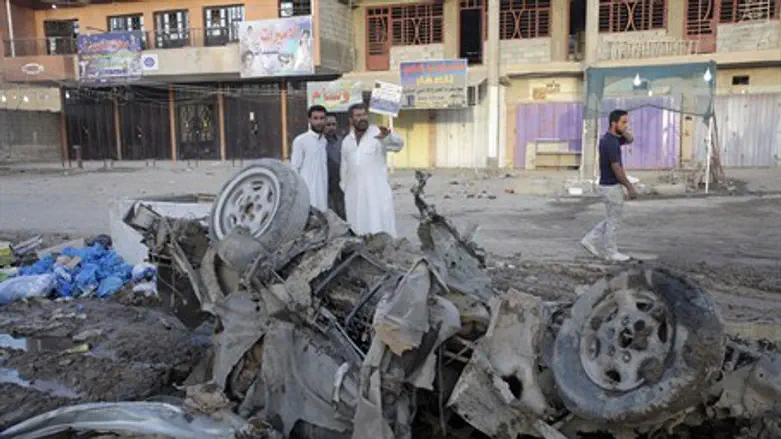 Illustration: Aftermath of a suicide bombing
Reuters
A series of car bombs near Baghdad has killed at least 21 people Monday, in the latest in a series of sectarian clashes ripping through Iraq.
The attacks came just hours after the United Nations Secretary General Ban Ki-Moon urged the Iraqi government to address the root causes behind the clashes, in light of escalating violence.
Four car bombs exploded in the Shi'ite districts of the Iraqi capital, killing at least 20 people; Al-Jazeera sets the number at 21 killed, Reuters UK at 25 killed and 76 wounded. In addition, gunmen attacked a checkpoint in Southern Baghdad, killing 3 policeman and wounding 4. 
The streets of the urban center were flooded due to a public holiday in honor of Islam's Prophet Mohammed's birthday, according to Reuters. No terrorist group has yet responsibility for the attacks, but it is assumed to be yet another wave of Sunni-Shia violence. 
Iraq saw more than 8,800 people killed in 2013 alone in sectarian clashes, the United Nations revealed last month. The violence prompted Ban Ki-Moon's visit with Iraqi Prime Minister Nouri Al-Maliki. 
Ban told a news conference after talks with Maliki that he was concerned about the escalating bloodshed and urged Iraqi leaders to deal with the violence's root causes. 
"There should be political cohesion, social cohesion and political dialogue, inclusive dialogue," Ban stated. "The security situation in Iraq is undoubtedly a source of great concern." 
Prime Minister Maliki, however, noted that the idea of dialogue with terrorists is unlikely - even futile. 
"Dialogue with whom - with al-Qaeda? There is no dialogue with al-Qaeda, and the Iraqi national decision is to end Al-Qaeda," Maliki said, quoted by Al-Jazeera.