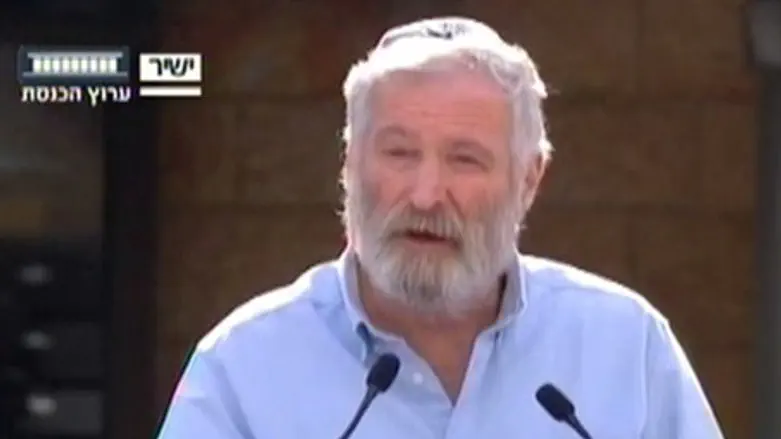 Ze'ev Hever at the funeral
Knesset Channel
The secretary general of settlement movement Amana, Ze'ev Hever ("Zambish"), was the last public figure to eulogize Ariel Sharon in the state ceremony at the Knesset Plaza Monday morning.
"You were our great teacher in the establishment of the settlements, the practical leader, the father of the settlement enterprise," Hever said of Sharon. "In construction, as in the military, you always went into to the small details and operated according to a strict schedule. With your special charm and humor you knew how to prod the people who were working, so that they would not slacken. 'Don't let up!' you commanded, again and again. You marked the target but you knew how to give us the freedon of action. You said – 'You know better than I, how to do this.'
"I loved you very much," he said of his personal ties with Sharon. "I saw a great privilege in the fact that I got to work with you. The friendship turned into a real love.
Regarding the Disengagement from Gaza, Zambish said: "Your diengagement from the road we walked down together, in the last two years of your term, was hard and painful. The questions remained without answers. The pain is great and a great love will cover over everything."
In closing, he added: "We promise you, the great and powerful Arik, that we will try very hard to cross all of the obstacles that face us, and as you commanded – we will not let up. We will not let up."