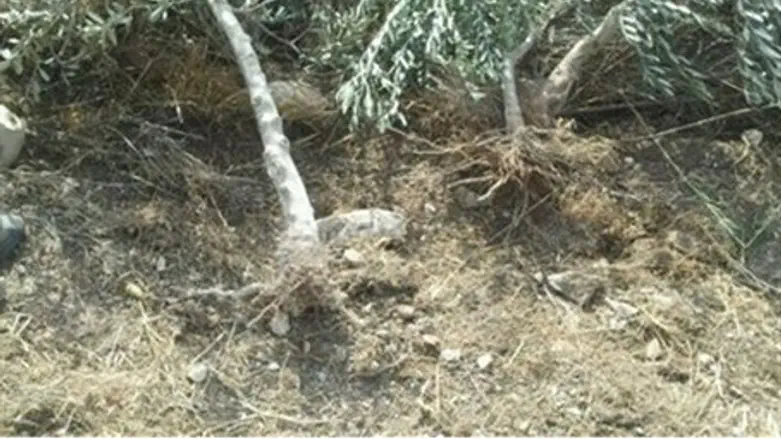 Felled olive trees (file)
Shomron Residents' Council
The far-left group Rabbis for Human Rights, accused in the past of inciting Arab violence and recently of distributing anti-Semitic materials, was exposed Monday for falsely reporting cut down olive tree branches at the Arab village of Jaloud in Samaria, right next to the Jewish town of Esh Kodesh.
An IDF patrol that arrived on the scene detained several Israeli youths who were in the area and fled towards the community of Shvut Rachel.
However, upon checking the scene, the IDF found there were no signs on the olive trees of being cut down, and consequently the Israelis were released. The far-left group has previously used olive harvests to stir up controversy and disputes.
The recent false claim of cutting down olive trees plays upon accusations of "price tag" vandalism, an accusation that was used last week to justify the attempted lynch by an Arab mob of 25 Jews as they walked from Esh Kodesh to Givat Hayovel.
However, soon after testimony and footage appeared to show that the Jewish group was far from the village of Kusra, which Arab residents claimed they had entered to vandalize.
Nevertheless, the media jumped on the false claims of a "price tag," and extreme leftist group Peace Now went further in calling for the demolition of Esh Kodesh.
Interestingly, among the initial photographic evidence depicting the brutal attack were a slew of pictures from Rabbis for Human Rights, who were surprisingly quick to arrive at the scene of the assault.
Despite the abundant evidence to the contrary, Palestinian Authority (PA) Chairman Mahmoud Abbas denied that any violence occurred, declaring Saturday that Jews were "not hit" by the "cultured" residents of Kusra.