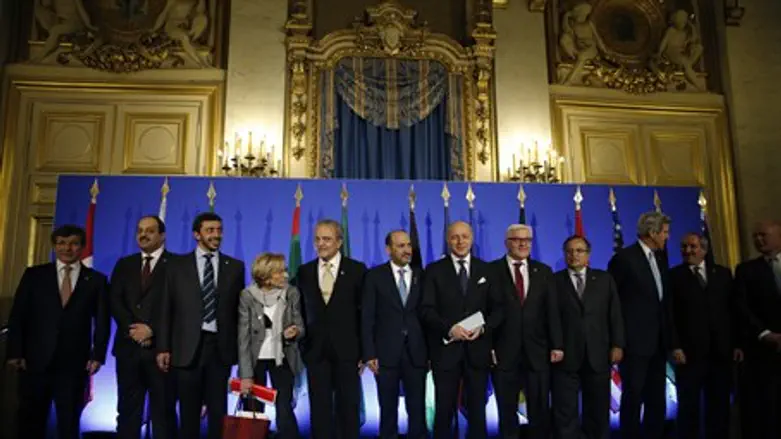 Friends of Syria meeting in Paris
Reuters
The "Friends of Syria", an alliance of mainly Western and Gulf Arab countries who oppose Syrian President Bashar Al-Assad, urged opposition groups on Sunday to attend this month's peace talks in Geneva, Reuters reports.
With 10 days to go until the first direct talks between the opposition and Assad's government - set for January 22 in Switzerland and dubbed "Geneva 2" - Western backers have struggled to unify rebel groups.
The Sunday meeting of the "Friends of Syria" grouping at the French foreign affairs ministry in Paris included ministers from 11 countries.
The main political opposition body in exile, the Syrian National Coalition (SNC), has been plagued by internal bickering. It postponed a decision on whether to attend until next week after nearly a quarter of its 121 members threatened to resign following after the re-election of its Saudi-backed leader, Ahmad al-Jarba.
One of the groups in the opposition bloc, the Syrian National Council, recently reaffirmed it will not attend the talks. The group has long insisted that it refuses to negotiate until Assad's regime exits power.
The Syrian regime has repeatedly said it will not attend a the Geneva peace conference if the aim is for Assad to hand over power.
In a final statement Sunday, the 11 core Friends of Syria nations urged the SNC to attend the talks on the shores of Lake Geneva.
"We invite them to form, as soon as possible, a delegation of opposition forces to participate in the political process," said a joint statement quoted by Reuters.
"There is no other political solution," French Foreign Minister Laurent Fabius said. "There will be no political solution for Syria unless 'Geneva 2' meets."
Even SNC participation at Geneva 2 is no guarantee that there will be an interlocutor in the talks who can truly represent the armed rebellion.
Speaking in Paris, U.S. Secretary of State John Kerry said attendance in Geneva was "a test of credibility."
"That's why I am confident they (the Coalition) will be there," he said, according to Reuters.
Jarba, who attended the Paris meeting, did not say whether he believed the Coalition would go, but said he was reassured that the 11 nations had agreed that there could be no transition under Assad.
"We are all in agreement to say that Assad has no future in Syria," he said.
One of the key questions regarding the Geneva 2 conference has been whether Iran will attend.
United Nations Secretary General Ban Ki-moon last week started sending out invitations to the peace conference, but Iran was not on the first list.
The United States has expressed its objection to Iran attending while Russia, one of the co-organizers of the Geneva 2 conference, supports participation by Tehran.
Iranian President Hassan Rouhani said last week that the peace conference will fail if Tehran, Damascus's main regional ally which has been supplying it with weapons to fight rebels, does not attend.