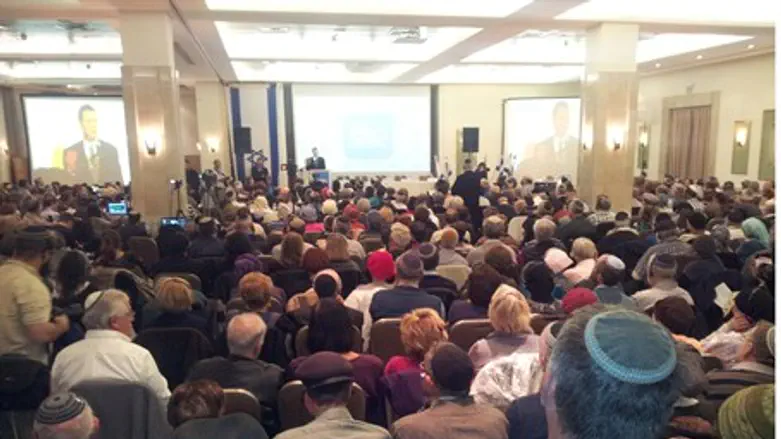 Women in Green Sovereignty Conference (file)
Yoni Kempinski
A new academic research institute will be founded to explore the issue of declaring Israeli sovereignty over Judea and Samaria. The decision to start the institute was made at the Forum for Application of Sovereignty, which met Monday under the initiative of Women in Green.
Among various topics, the institute intends to investigate economic implications of sovereignty in terms of real estate and industry. Similarly, the international legal framework of sovereignty will be researched, along with the media outreach efforts necessary.
The central goal of the institute will be to present the Israeli public and government with the conclusions of solid research by leading academics within a few months. Polls last April already established that 80% of the Israeli public supports sovereignty over the Biblical heartland.
The decision to found the institute comes as an outgrowth of previous large conferences calling for sovereignty, as well as the journal Sovereigntypublished by Women in Green. The second issue of the publication was released last week.
It also comes as the Israeli right wing is preparing for peace talks with the PA to end with a bad peace plan, and realizing the need to present an alternative to dangerous proposals of Israeli concessions.
Among those taking part in the decision to found the institute were Dr. Mordechai Kedar, former US ambassador Yoram Ettinger, economist Eran Bar Tal, Rebbetzin Shulamit Melamed and journalist Caroline Glick.
Regarding the Palestinian Authority (PA) and its desires to govern Judea and Samaria, Dr. Kedar, a scholar on Arab and Islamic Studies, presented conclusive data showing the vast majority of Arabs in the area see the PA as "forced upon them and even colonialist."
This opposition to the PA was demonstrated by Israeli Arabs as well recently, as MK Ahmed Tibi (Ra'am Ta'al) rejected Foreign Minister Avigdor Liberman's proposal to give the area currently holding 300,000 Israeli Arabs over to the PA. Tibi was accused of hypocrisy in calling for a Palestinian state but not wanting to live in it.
In terms of the US, which has been exerting massive international pressure on Israel to make concessions, Ettinger noted the balance of power in the US government limits President Barack Obama's ability to harm Israel. He also pointed out the joint interests which garner US support regardless of the PA issue.
While the current Israeli government appears afraid to say "no" to the US, Ettinger commented that prime ministers such as David Ben-Gurion and Yitzhak Shamir who were able to oppose the US in fact strengthened ties with it.