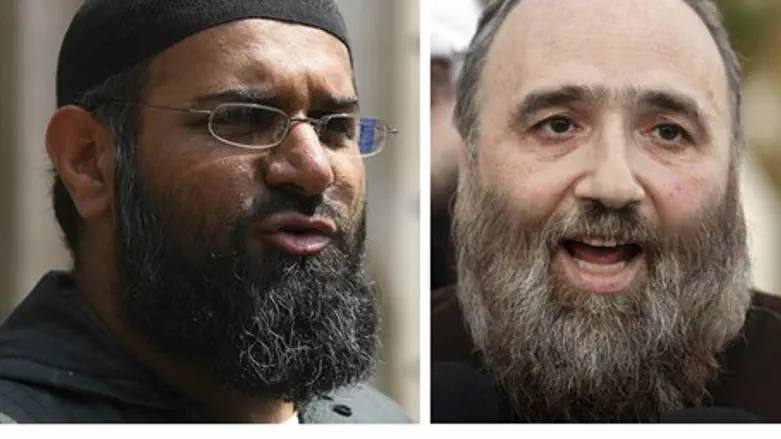 Anjem Choudary (left) and Omar Bakri Mohammed
Reuters
Controversial British Muslim extremist Anjem Choudary has been helping to "vet" potential jihadis for combat in Syria, according to a veteran Islamist leader and associate of his.
Sheikh Omar Bakri Mohammed, who spent 20 years in the UK before fleeing to Lebanon in 2005, offered an insight into the workings of the "Al Muhajiroun" Islamist network he co-founded along with Choudary, which he claimed spans 16 countries and aims to create a "Global Islamic Caliphate" or empire.
Bakri, who is now banned from returning to the UK due to his extremist activities, has repeatedly voiced his support for suicide bombings, and claimed that the deadly bombing of an Israeli tourist bus in Bulgaria was carried out by one of his disciples.
Al Muhajiroun has been repeatedly banned by the UK government, only to surface under new names including "Islam4UK", which was also banned in 2010. Bakri is the "Emir" (commander) of the network, and Anjem Choudhary serves as one of his deputies, he said.
In an interview with Lebanon's LBCI news network, translated by MEMRI, Bakri explained how he appointed regional "commissioners" in each of the countries where the group operates to coordinate local activities. 
"We have sent young men to Kashmir, to Bosnia, to Chechnya, to East Turkestan, to Somalia and even to Palestine," boasted the Lebanese cleric, continuing to claim that four British recruits had taken part in suicide bombings in the past few weeks in Syria alone. His reference to "Palestine" may have been to two British Muslims - Asif Hanif and Omar Khan Sharif - who volunteered as suicide bombers for the Hamas terrorist group in 2003.
In April of that year Hanif blew himself up at the Mike's Place beachfront bar in Tel Aviv, killing three people and injuring 55 others. Sharif was found dead on a nearby beach after fleeing the scene when his explosives failed to go off. Hanif had previously been associated with Al Muhajiroun.
Choudary is possibly the most notorious of the group's western leaders, having led numerous protests calling for the implementation of Sharia (Islamic law) in the UK, as well as praising Islamist terrorism.
Provocative protests by him and his followers against British troops serving overseas helped trigger the rise of the English Defense League or EDL - an anti-Islam protest group.
Choudary told interviewers that he was proud of young Muslims in Europe who left to fight in Syria, saying that contrary to more conservative estimates there were "thousands" of such volunteers.
The revelations will add more scrutiny to Choudary's activities in the UK. Though he has always been careful to avoid falling foul of British terrorism laws, he is blamed for a campaign of radicalization and incitement which anti-extremist groups say has started many young Muslims on an ideological journey to "jihad". Just a few months ago anti-fascist group HOPE Not Hate published an expose on his activities entitled "Gateway to Terror", and warning authorities not to tolerate his "antics".
Most recently, two of his followers - Michael Adebolajo and Michael Adebowale - were jailed for the brutal murder of an off-duty British soldier in London. The two Muslim converts ran over Drummer Lee Rigby with a car before stabbing him and attempting to behead him with knives and a meat cleaver.
Islamists associated with Choudhary have also been blamed for extremist "Muslim patrols" seeking to impose Islamic law on parts of London. In early December three Islamist vigilantes were convicted for their part in such a patrol.