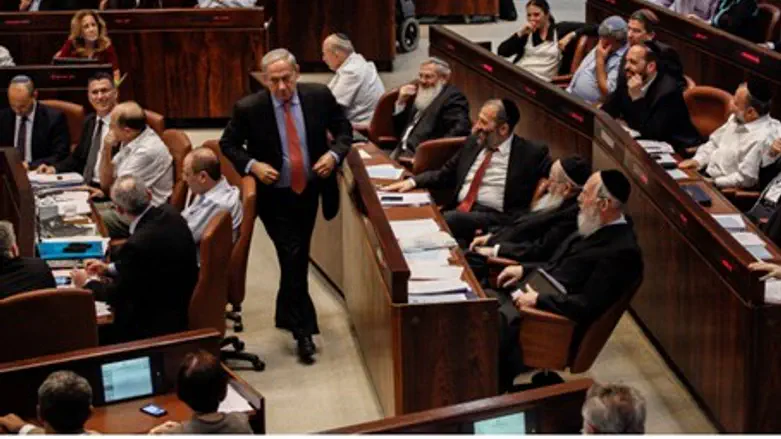 Knesset members
Flash 90
The joint Likud-Yisrael Beytenu Knesset list would remain in power if elections were held today, according to a Channel 2 News poll released Sunday evening.
The poll found that the Likud Beytenu would receive 33 seats, two more than it currently has, were elections to be held today. The Labor party under new chairman MK Yitzchak Herzog would win 16 seats, just one more than it currently has.
The Yesh Atid party headed by Yair Lapid would crash to five seats, down by 14 from the number it currently has. The Jewish Home party, led by Naftali Bennett, wins 11 seats according to the poll, one less than it currently has. The Shas party would lose a seat as well and would win 10 seats if elections were held today.
The poll also found that Meretz and Tzipi Livni's Hatnua party would each gain one seat for a total of seven seats. The Arab parties would each get four seats for a total of eight.
Even the Kadima party, which barely made it into the last Knesset, would pass the electoral threshold if elections were held today and would hang on to its two seats. The Otzma LeYisrael party, headed by former MKs Michael Ben-Ari and Aryeh Eldad, also passes the threshold in this poll and enters the Knesset with two seats.
The poll also sought to find out whether the public was satisfied with the performance of the current government. A majority of 65% said they were not satisfied with Prime Minister Binyamin Netanyahu's third coalition, and only 27% said they were satisfied.
At the same time, respondents said that Netanyahu was still the most suitable person to be Israel's Prime Minister. 30% of respondents said they favored Netanyahu, 11% said they favored Herzog, 7% favored Livni, 6% said Foreign Minister Avigdor Liberman was most suitable to be prime minister, and only 5% said they favored Lapid in the role.
Finally, the poll sought to find out what would happen if former minister Moshe Kahlon would form a new party as has been widely rumored in recent weeks.
If Kahlon were to run with a new party, found the poll, the Likud Beytenu would win 30 seats, Labor would remain unchanged with 16, Yesh Atid  would receive 12, and Kahlon's party would win 10 seats.