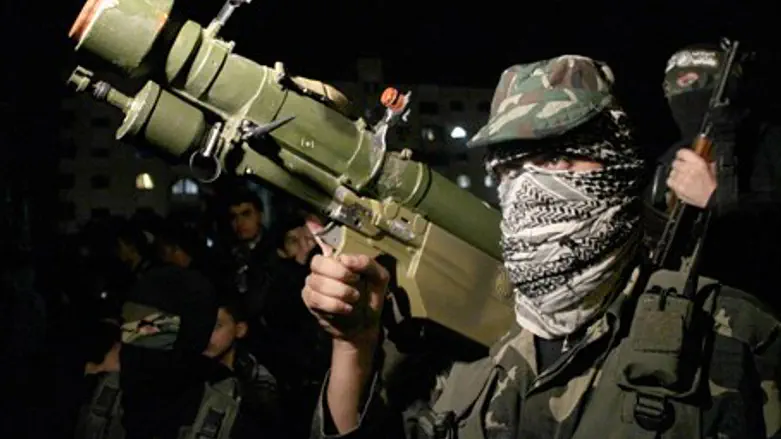 Hamas terrorist in Gaza City (illustrative)
Flash 90
An Egyptian lawyer, Samir Sabri, has filed a lawsuit against Egypt's president, prime minister and minister of interior, demanding that they declare Hamas a terror organization.
The newspaper Al-Wafd reported that Sabri's suit says Hamas has become a terror group and that it has maintained tight ties with the organization that spawned it, "the terrorist Muslim Brotherhood."
Sabri listed the terrorist actions that Hamas has carried out against Egypt, including breaking down the barrier between Egypt and Gaza in 2008, breaking into Egyptian jails in 2011 and releasing Hamas aterrorist prisoners, involvement in blowing up the gas pipeline in Sinai, the capture of Hamas man Hamed Mahmoud Salameh with a firebomb at Tahrir Square, and Hamas's involvement in attacking military targets in Sinai.
Sabri added that Hamas members are concentrated in the northern provinces of Sinai because of the group's close ties with local tribes and clans, and that the largest funders of Sinai terror actions are connected with Hamas's leadership.
The lawyer charged that Muslim Brotherhood leader Mahmoud Ezzat coordinates terror attacks against the Egyptian army from Hamas bases, and that Egyptian intelligence has found that Ezzat transferred a million dollars that he received from the Muslim Brotherhood's international organization to jihadist groups in Sinai and to senior members of the Brotherhood, to be used for striking at police and military forces.