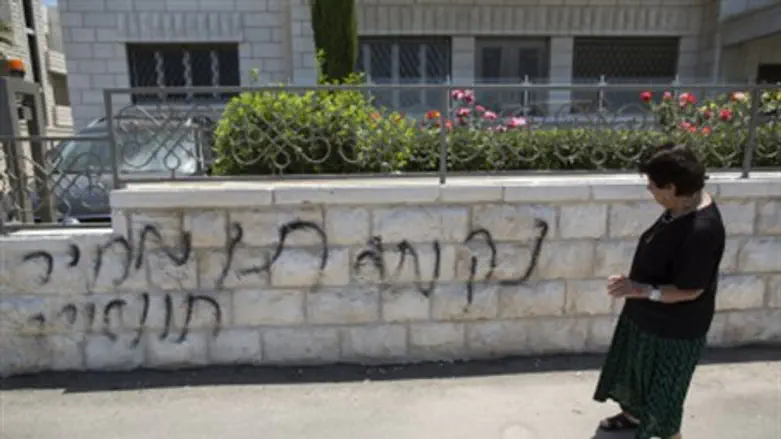 Price Tag
Israel news photo: Flash 90
Three cars belonging to Arabs in the Palestinian Authority (PA) settlement of Jalzoun were set on fire Monday night, police said Tuesday. Police suspect that it might be a "price tag" attack in retaliation for Israel's release of 26 convicted terrorists Monday night. 
Israeli police spokeswoman Luba Samri told AFP that vandals also spray-painted "blood will flow in Judea and Samaria" and "this is war" on the wall of a house nearby. Another graffitied message read "Hello, John Kerry," addressing the US Secretary of State, who returns to the region this week to force a US-brokered peace deal between the PA and Israel. 
Israelis have been outraged at the terrorist releases. Israel agreed to free a total of 104 Palestinian prisoners during the peace talks, and has already released 78 in three separate batches. The remaining terrorists are due to walk free in March 2014. Many say that the terrorist releases set a precedent, encouraging more terrorism without the threat of punishment or retaliation. 
Marches and protests in Jerusalem against the release graced headlines for almost a week. One popular protest site was the Prime Minister's residence, with bereaved families and activists holding demonstrations there on Wednesday, Thursday, Saturday night, Sunday, and Sunday night. 
The release was made possible after the Supreme Court rejected a last minute petition filed by activists and families whose loved ones were killed in the terror attacks perpetrated by the prisoners set to be released.
As in previous appeals before terrorist releases, the Court said that "there is no cause for us to intervene in such processes, as they are political decisions." The appeal also asked the Court to consider the fact that five of the terrorists were to be released to their homes in Jerusalem, but said that this was not sufficient grounds to prevent the releases.
As the terrorists were being released, U.S. Secretary of State John Kerry expressed his "appreciation" of Israel's agreeing to release terrorists who murdered Israelis.
"The Israeli government's commitment to release Palestinian prisoners helped enable the start... and the continuation of the final status negotiations, and we believe this is a positive step forward in the overall process," said State Department deputy spokeswoman Marie Harf.
Israelis have also been outraged at reports that the terrorist releases were a "compromise" brokered to prevent a building freeze - or worse - of Judea and Samaria. 
Netanyahu justified the release Monday, saying that his government was not there to make "easy decisions. True leadership is tested when it has to make difficult decisions."