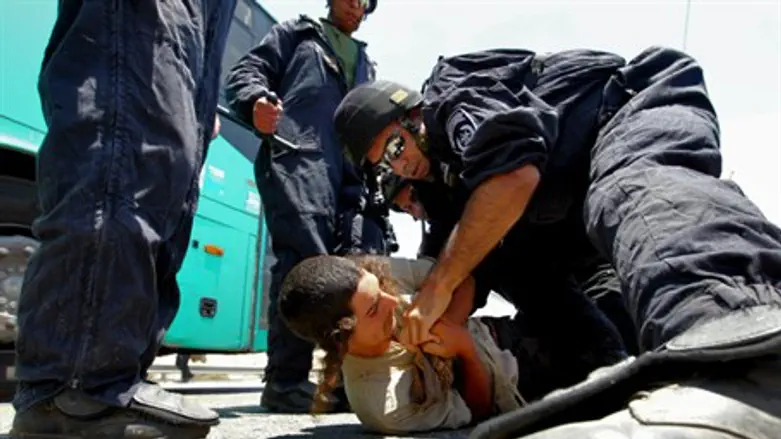 Violent arrest
Israel news photo: Flash 90
Attorney Pini Fischler of the Ometz government watchdog group has published the group's monthly report on the Israel Police. He spoke to Arutz Sheva about the latest report, which is 650 pages long and paints a dismal picture of police behavior.
The report indicates that police violence against innocent citizens is increasingly a problem, Fischler declared.
He pointed to the growing sums of money that police have been ordered to pay as compensation to people who were wrongly arrested and in cases where officers wrongly used physical violence, or made unnecessary use of tasers. To this point, police have paid roughly 100 million shekels in compensation, he said – and the report indicates that police will need to pay another 30 million in 2013 alone.
The report also analyzed various investigations into police violence conducted by the police's own Internal Investigations unit, and court cases centering on police violence.
Copies of the report have been sent to the Minister for Internal Security, the Justice Minister, and other senior sources. However, Fischler said, given the severity of the allegations, that may not be enough. He called for an official committee of inquiry into the findings.
Both violence and corruption have reached unbearable levels, he warned. "We can't take this anymore," he declared, adding, "This is a highly disturbing report that would have any objective citizen saying, 'Enough.'"
He clarified that he does not see the Israel Police as a whole as a corrupt organization. However, he said, corruption has gone beyond the "few bad apples" seen in the past.
"If once we spoke about 'bad apples,' now it's not just containers of bad apples, it's entire orchards," he warned.
Fischler said many officers are disturbed by the corruption they see around them, and have even taken steps to fight the phenomenon by calling and leaving anonymous tips. However, he said, many are unwillingly to openly make accusations because they fear negative repercussions for their own careers.
"As taxpayers, we deserve better police service, honest service. But the reality is that at least 800 murder cases remain open. Has someone asked what is happening with those?" he asked.
"Citizens don't go to police to complain because they know nothing will be done. That lowers crime figures," he continued. "I tell Police Chief Danino that I love the police more than he does – how can he present data at a police conference that has no connection to reality?"
"They say that public trust in the police has risen, but everyone can tell that isn't true," he argued.