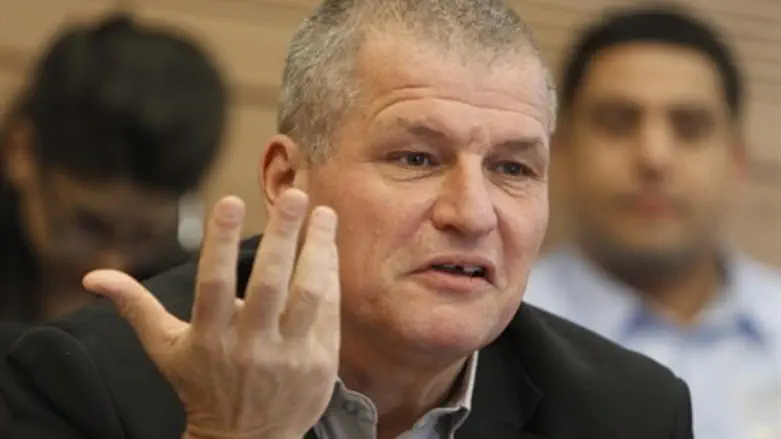 MK Mickey Rosenthal (illustrative)
Flash90
MK Mickey Rosenthal (Labor) attacked Prime Minister Binyamin Netanyahu's decision to proceed with the planned terrorist release Saturday night, and claimed that a building freeze in Judea and Samaria would have been preferable for peace talks.
"My heart is with the bereaved families," Rosenthal writes, referring to Saturday's emotional protests outside of the Prime Minister's Jerusalem home.
Rosenthal stated that the fact that the release is staggered - in 4 batches of 26, not 104 at once - does not help the fact that the terrorists are being released.
"On the contrary; my heart is torn every time I see the bereaved families, who are crying out against the release even though they no there is no real chance of their efforts changing the situation," he said. 
Rosenthal claimed that releasing terrorists constitutes an attack on Israel's sense of morals. "If only the releases would be under an agreement which would benefit us - that would be a comfort, and you could justify it," he continued.
"But the decision to release prisoners to resume negotiations is a decision of the Prime Minister - and only his. Netanyahu chose not to freeze 'settlements' for political considerations. He is afraid to confront his own party members and the 'settlers' [themselves]." 
"There is still time to enact a building freeze," he urged. "Releasing terrorists is irreversible." 
The previous terrorist release, in October, saw waves of protests across Israel. The demonstrations culminated in an emotional protest outside of the hotel room of US Secretary of State John Kerry and a petition submitted to the High Court to stop the releases.
Like last time, Prime Minister Binyamin Netanyahu is expected to announce plans next week for another 1,400 Jewish homes in Judea and Samaria.
Critics from both sides of the political spectrum have criticized the move to approve more plans with each release, with the Left preferring a building freeze, and many nationalist MKs pointing out the futility of preconditions for negotiations of any kind.