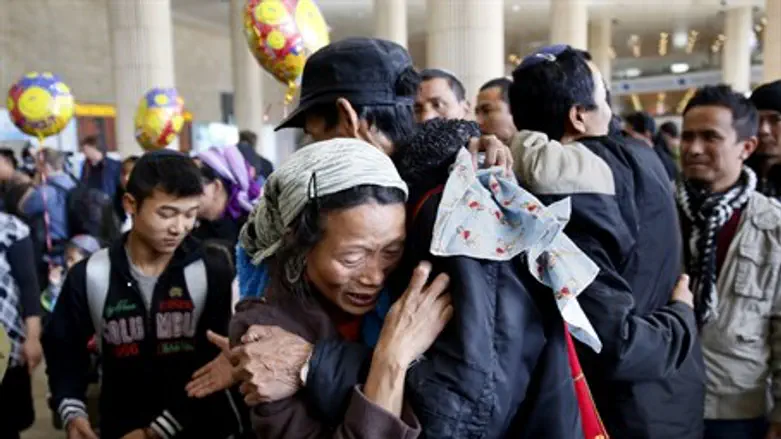 Tearful reunions as Bnei Menashe olim arrive
Shavei Israel
Tears flowed freely as a group of 38 Bnei Menashe, descendants of a Lost Tribe of Israel, were greeted by relatives at Ben Gurion Airport after making Aliyah yesterday from India.
The immigrants, who hail from the northeastern Indian state of Mizoram, were brought to Israel by the organization, which recently received permission from the Israeli government to bring 900 Bnei Menashe to the Jewish state over the next 15 months.
The Bnei Menashe are descendants of the tribe of Menashe (or Manasseh), one of the Ten Lost Tribes of Israel which were exiled by the Assyrian empire after the death of King Solomon more than 2,700 years ago.
Shavei Israel Chairman Michael Freund, who accompanied the group of immigrants on the flight from India, called it "an historic moment".
"This is the beginning of Operation Menashe, the return of this Lost Tribe back to our people and our Land. The Bnei Menashe braved 27 centuries of exile, and just as the Prophets of Israel foretold, they are now coming home," he said.
Among the new arrivals, nearly half of whom are under the age of 18, was Yaffa Lhundo, a 76 year-old widow whose beloved husband passed away last year before having a chance to fulfill his dream of moving to the Promised Land. Lhundo was greeted at Ben Gurion Airport by her son and grandson whom she had not seen in more than 7 years. She could not contain her tears of joy and pride when she saw her grandson, who serves in an elite IDF infantry combat unit, wearing his drab olive green uniform.
The flight was sponsored by the International Christian Embassy Jerusalem (ICEJ).
Freund said that his organization plans to bring another 120 Bnei Menashe on Aliyah next month.
More than 2,000 Bnei Menashe now live in Israel, and there are another 7,000 still in India, all of whom wish to move to Israel.
"Azaryah" from Mizoram at Ben Gurion Airport after making Aliyah
credit: Shavei Israel
Tearful reunions as families reunited
credit: Shavei Israel
Young and old return home together
credit: Shavei Israel
"Netanel" at Ben Gurion Airport after making Aliyah
credit: Shavei Israel
Shavei Israel Chairman Michael Freund with Azaryah from Mizoram at Ben Gurion Airport
credit: Shavei Israel
Shavei Israel Chairman Michael Freund with Azaryah, Haggai and Ariel from Mizoram at Ben Gurion Airport
credit: Shavei Israel