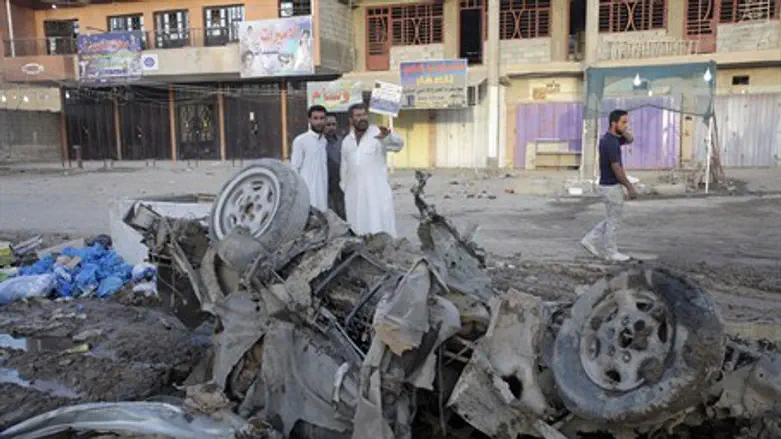 Aftermath of car bomb in Baghdad, August 2013
Reuters
The United States has delivered dozens of missiles to Iraq to help combat the Al-Qaeda terrorist group, officials in both countries said Thursday.
The officials, who were quoted by the BBC, said that about 75 Hellfire air-to-ground missiles had been sent last week.
A shipment of unmanned ScanEagles surveillance drones is also expected next year, according to the BBC.
Iraqi troops have recently launched an operation against Al-Qaeda terrorists in the desert province of Anbar, which borders war-torn Syria.
State Department spokeswoman Jen Psaki on Thursday confirmed the Hellfire missile delivery and said the drones would be sent soon.
"The United States is committed to supporting Iraq in its fight against terrorism through the Strategic Framework Agreement," Psaki said, referring to the 2008 accord between the two countries.
"The recent delivery of Hellfire missiles and an upcoming delivery of ScanEagles are standard foreign military sales cases that we have with Iraq to strengthen their capabilities to combat this threat," she added.
The missiles are reportedly being used by Iraqi aircraft in Anbar, targeting hideouts or vehicles belonging to the Al-Qaeda members.
Al-Qaeda is believed to have recently regrouped in Anbar, with a number of fighters crossing the border between Iraq and Syria.
Iraq has suffered ongoing terrorist attacks, which have raised fears of an all-out sectarian war between Shiite and Sunni Muslims breaking out.
In late July, at least 500 inmates - most of them "senior" Al-Qaeda terrorists - escaped from two jails in Iraq, threatening to worsen the security situation in the country.
More than 8,000 people have been killed in attacks across Iraq this year, according to UN estimates.
Christians have been the targets of terror attacks as well. Just this week, a car bomb targeted a church in the Iraqi capital as worshippers left after a Christmas service, killing at least 35 people.
Many of the Shiite terrorist groups operating in Iraq are closely aligned with Shiite-majority Iran, and at least some of them have been taking part in the civil war in neighboring Syria by sending men to fight on the side of the Assad regime.
The founder and leader of one such group, the Al Mukhtar Army, said in an October 23 interview on Iraqi TV that were war to break out between Iran and Iraq, he would side with Iran against his own country. Watheq Al-Battat's statement highlight the Sunni-Shi'ite divide in Iraq.