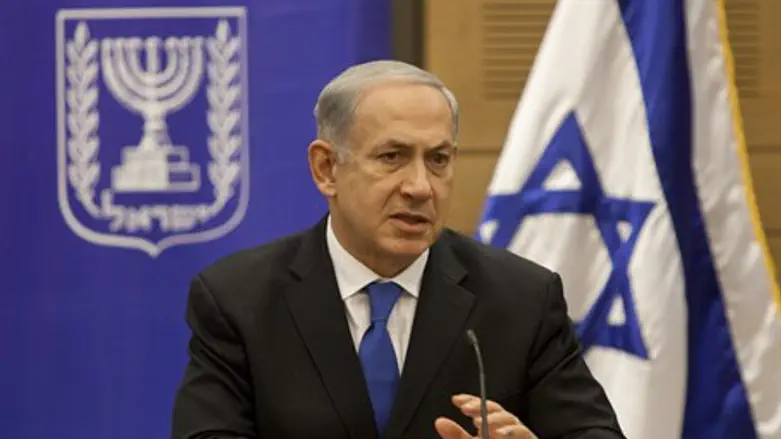 Prime Minister Binyamin Netanyahu
Flash 90
Prime Minister Binyamin Netanyahu plans to announce extended Jewish construction in Judea and Samaria next week, Channel 2 News reported on Wednesday.
The announcement is expected to come parallel to the release of another 26 terrorists as a "gesture" to the Palestinian Authority (PA).
With the planned announcement, Netanyahu has essentially rejected a request by the United States, which had asked him to hold off on new construction announcements so as not to hurt the ongoing peace talks with the PA.
Previous announcements on construction raised the ire of the PA, which demanded that Israel cancel any tenders it has issued for new construction or the talks would be over.
Under American pressure, Prime Netanyahu recently reprimanded Housing and Construction Minister Uri Ariel over the construction and cancelled it.
The PA has repeatedly slammed Israel's planned construction in Judea, Samaria and Jerusalem, despite the fact that it was informed in advance that Israel will continue to build as talks continue. The areas in which Israel plans to build are areas that even the PA has previously accepted will be part of Israel in a future deal.
Meanwhile, there is growing pressure on Netanyahu not to go through with the planned terrorist release next week, particularly in the wake of the recent wave of terrorism.
Bereaved families staged a protest outside Netanyahu's home on Wednesday, demanding that he cancel the release.
Defense Minister Moshe Yaalon indicated later on Wednesday that the government may be reconsidering releasing more terrorists.
"We are not happy with the prisoner releases," Yaalon remarked, speaking from an army training exercise of the Givati Brigade. "We are now before the third [terrorist] release [. . .]  we will decide if - and whom - to release."
"Judea and Samaria has not been quiet," he stated. "We call this an 'atmosphere of terror' and it is due to the Palestinian Authority's incitement against Israel. The statistics speak for themselves: in 2012 we saw a decline in terror attacks, but in the past several months we have seen a rise in terror attacks."