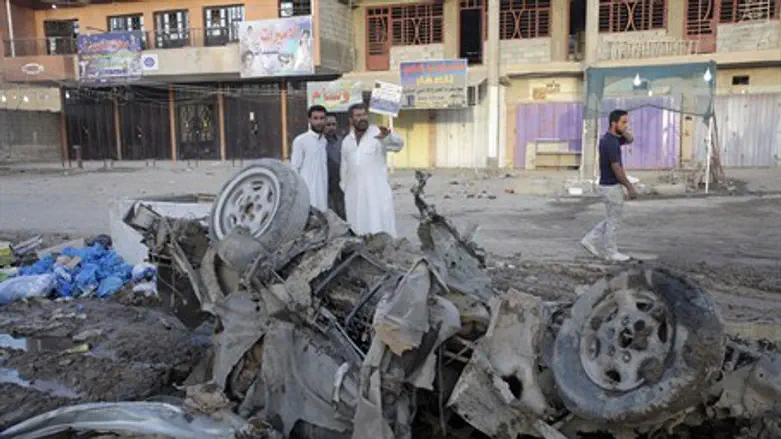 Aftermath of car bomb in Baghdad, August 2013
Reuters
A car bomb targeted a church in the Iraqi capital Wednesday as worshippers left after a Christmas service, killing at least 35 people, most of them Christians, security officials said.
The blast in the Dura area of south Baghdad also wounded dozens of others.    
"The attack targeted the church, and most of the martyrs are Christians," a police colonel told AFP. "The attack happened when worshippers were leaving the church" after a service.    
There was no immediate claim of responsibility for the attack.  
"Attacks distort the image of Islam and religion, if they are carrying them out in the name of religion," said Monsignor Pios Cacha of Baghdad's St. Joseph church.
"The church is a place of love and peace, and not for wars," Cacha said.  
Earlier in the year, Cacha had said that "maybe we will follow in the steps of our Jewish brothers," referring to Iraq's once-thriving Jewish community that was all but wiped-out due to persecution, discrimination and violence at the hands of the country's Muslim majority.
Approximately one million Jews were forced to flee Muslim-majority countries during the twentieth century, wiping out entire Jewish communities, whose presence in the region predated Islam. Today, the Middle East's Christian population is facing similar challenges, with Christian communities - many of whom also predate the rise of Islam - targeted by Islamists throughout the region. Israel is currently the only Middle Eastern country with a growing Christian population.
Iraq has seen its Christian population sharply decline in the years since 2003.    
In that year, the US-led invasion of Iraq ended dictator Saddam Hussein's rule, but also turned the country into a battleground between insurgents and foreign troops, unleashing a wave of bombings and killings by terrorists in which Christians were not only caught in the crossfire, but targeted themselves.  
The bloodiest single attack on the community happened on October 31, 2010, when terrorists killed 44 worshippers and two priests in Baghdad's Our Lady of Salvation church.
Estimates of the number of Christians living in Iraq before 2003 vary from just over one million to around 1.5 million; but now there are only around 400,000, according to Chaldean Patriarch Louis Sako, head of one of the world's oldest Christian communities. Some 61 churches have been attacked in the decade since the US-led invasion, Sako said, with more than 1,000 Christians killed in violence, albeit not all in targeted attacks.
Violence in Iraq has surged this year to levels not seen since 2008, when the country was just emerging from a brutal period of sectarian unrest.
More than 6,650 people have been killed in Iraq since the beginning of 2013, according to AFP figures based on security and medical sources.