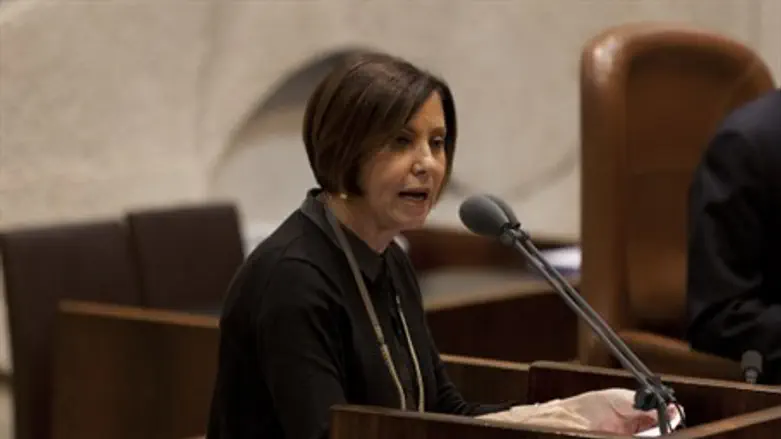 MK Zehava Galon
Flash 90
Prime Minister Binyamin Netanyahu on Tuesday evening issued a warning to Arab terrorists in the wake of the recent escalation in attacks, but the chairwoman of the leftist Meretz party took issue with the warning.
In a post on his Facebook page, Netanyahu wrote the following: "I wouldn't suggest that anyone test us. Those who tested us, got it. Those who will test us will get it."
Netanyahu's warning came after five days of terrorist attacks against Israelis. On Tuesday, the Israeli Air Force (IAF) struck multiple terrorist sites throughout Gaza in response to a sniper shooting attack which killed a civilian IDF worker.
Meretz chairwoman MK Zehava Galon, however, was quick to condemn Netanyahu over his warning.
In a post on her own Facebook page, Galon said that Netanyahu's warning was "childish" and "not funny."
"Israel needs serious leadership that knows how to act responsibly and make difficult decisions, not a hysterical prime minister who uses vulgar slogans devoid of judgment," she charged.
"Netanyahu would do well if, instead of falling into the hands of terrorists who are trying to thwart dialogue and inflame the region, he declares without hesitation that the best answer to terrorism is the continuation of the peace negotiations and strengthening those elements in the Palestinian leadership who oppose terrorism," added Galon.
Despite Galon's comments, however, the so-called "moderate" leadership in the Palestinian Authority (PA) has failed to condemn the recent terror attacks.
In fact, the PA's chief negotiator for peace talks with Israel, Saeb Erekat, on Tuesday slammed Israel for its airstrikes on Gaza and accused the Jewish state of trying "to initiate a bloody escalation."
Even with peace talks with Israel having resumed, the PA continues to incite to murder of Israelis in its media and in its schools.
Economy Minister and Jewish Home chairman Naftali Bennett pointed out on Monday that the PA bears the responsibility for the latest terror attacks because it continues to incite.
"The claim that the Palestinian Authority is not connected to the attacks explodes in our faces every day. When you educate your children starting in kindergarten to commit acts of terror, when your TV broadcasts paint Jews as monsters, when even Tel Aviv is not on your map, you are a terrorist."