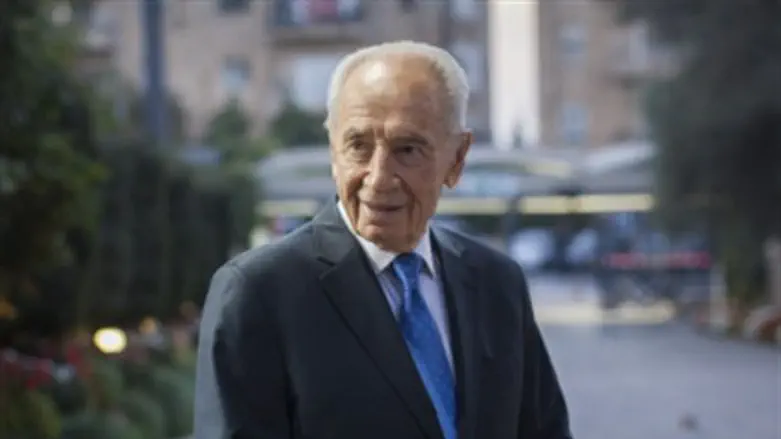 President Shimon Peres
Flash 90
President Shimon Peres had a stern warning for the residents of Gaza on Tuesday evening, in the wake of the latest escalation in terror attacks from that region.
"You are playing with fire," he told Gazans, after a fatal shooting of a civilian IDF worker by terrorist snipers.
"If Gaza wants quiet then they should act accordingly and if not then it will bear the results," added Peres.
"Gaza is not under any occupation. If they think the world will continue to support them while they create more victims then they are wrong. We will guarantee our security," he stressed.
Defense Minister Moshe Yaalon stressed earlier on Tuesday that "in Gaza, Hamas is ruler, and we hold it responsible for the shooting today from the (Gaza) Strip and the rocket launches in the past two days at Israel."
"I advise Hamas to not test our patience," he said in a statement, warning that "If there won't be quiet in Israel, there won't be quiet in Gaza either."
In response to Tuesday's fatal shooting, the Israeli Air Force (IAF) struck multiple terrorist sites throughout Gaza.
The Israeli army said aircraft, tanks and infantry "targeted terror sites in the Gaza Strip" in retaliation for the shooting, noting that it  marked the "first Israeli civilian killed in the vicinity of the Gaza Strip" since the Israel Defense Forces' (IDF) eight-day "Pillar of Defense" counterterrorism operation in November 2012, which largely stemmed the tide of deadly rockets fired by terrorists on nearby Israeli civilian centers.
"The sites targeted were a weapon-manufacturing facility and a terror infrastructure in the southern Gaza Strip, a terror site and another terror infrastructure in the central Gaza Strip and a concealed rocket launcher in the northern Gaza Strip," a statement said.
The latest Arab terrorist attack is the most recent in five consecutive days of violence.
On Monday afternoon, a police officer was stabbed and seriously wounded by an Arab terrorist just north of Jerusalem. The officer's condition has stabilized following surgery, in what doctors described as a "miracle" given that the 15 centimeter (6 inch) knife struck very close to the officer's heart and other vital organs.
On Sunday afternoon a bomb exploded on a Bat Yam bus. Only one person was wounded in that attack on Sunday afternoon - a far more tragic outcome was avoided only by an alert passenger and the quick reactions of the bus driver who evacuated the bus as soon as the suspicious package was spotted.