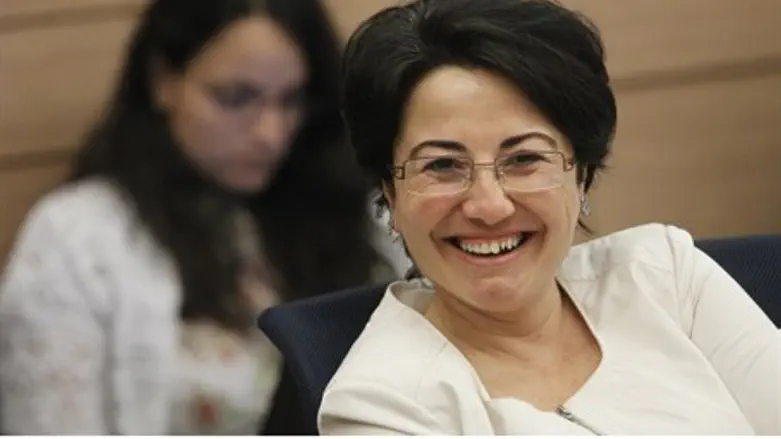 MK Hanin Zoabi
Flash 90
The Supreme Court rejected a petition by former MK Michael Ben-Ari and Attorney Itamar Ben-Gvir on Monday. The two right-wing activists had been seeking to force the courts to try Arab MK Hanin Zoabi (Balad) for taking part in the Mavi Marmara flotilla attack on the IDF in 2010.
Zoabi has said she doesn't regret taking part in the flotilla, which attempted to illegally break the IDF's blockade on the terrorist organization Hamas in Gaza. Nine Islamist terrorists were killed after attacking Israeli commandos that boarded the ship.
Evidence has shown that Zoabi knew of the planned attack on soldiers of Israel, in whose parliament she serves. Nevertheless, the Supreme Court in 2012 overturned a decision by the Knesset Elections Committee banning her from running for re-election.
However in the current petition, Supreme Court President Asher Grunis and Judge Uzi Fogelman admitted there was no pretext for the Supreme Court to get involved in the State Attorney's decision not to indict Zoabi.
"We regret that the majority of the judges didn't want to examine the materials and read the testimony of soldiers on Zoabi's actions," read a statement from Ben-Ari and Ben-Gvir, along with their Eretz Yisrael Shelanu (Our Land of Israel) movement, following the ruling.
"In the past when a petition was filed against Rabbi (Meir) Kahane, the Supreme Court examined all the material," noted the statement, in reference to the assassinated rabbi and former nationalist MK. "But what's right against Kahane isn't right against an enemy of Israel that again and again is defended by the court."
The petitioners had requested to receive the opinion on which the Attorney General based his decision to close the case against Zoabi. They further requested that the State Attorney pass material evidence to the courts. As noted, these requests were rejected by the Supreme Court.
Grunis said the Supreme Court in general doesn't look at material evidence but rather focuses on the Attorney General's considerations.
Judge Neal Hendel supported the petition's plea to have the court examine material evidence, although Hendel said he didn't side one way or the other regarding the decision to close Zoabi's case. Hendel reasoned that the current case was exceptional, warranting an examination of evidence. However, his opinion was overruled.
The petitioners commented that "in light of the minority opinion we will consider re-submitting the petition."
As an MK in 2012, Ben-Ari used his immunity to protest alone in Nazareth after the police cancelled the protest against Zoabi's Marmara escapade which they earlier allowed. Zoabi joined hundreds of Arabs facing off against Ben-Ari and chanting ""with our blood and our spirit we will free Palestine."