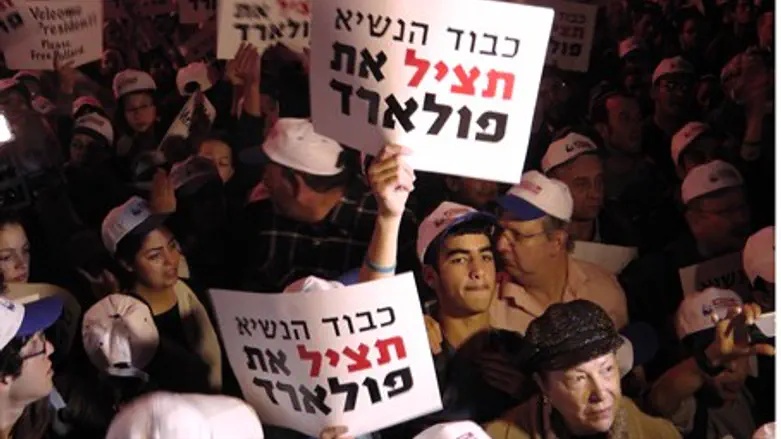 Protest for Pollard
Hezki Ezra
MK Ayelet Shaked (Jewish Home), head of Israel's task force to free Jonathan Pollard, called to free the imprisoned Israeli citizen immediately after revelations surfaced that the US and Britain spied on Israeli Prime Ministers Binyamin Netanyahu and Ehud Olmert. 
"The recent revelations about the US spying on its ally, Israel, should be a red flag for any intelligent, thinking person," Shaked stated. 
"A relationship between allies demands reciprocity," the MK continued. "It is impossible that while Jonathan Pollard rots in prison after several decades over spying allegations [. . .] that Israel should take this exposure of the US's spying activities against Israel quietly." 
"I call on the US government to release Pollard immediately, and to assume the correct course of action in light of the current revelations," she continued.
Shaked's declarations echo similar statements by the Former US Assistant Secretary of Defense Dr. Lawrence Korb, who called Pollard's imprisonment "absurd" and a "moral embarrassment" in light of this weekend's revelations. 
"The lack of proportion of Pollard's sentence and his weakening medical condition in any case demands his release by any measure of justice," Korb stated.
Pollard has been subject of a high-profile campaign for his release, after being held in the US for more than 28 years on spying allegations. He was arrested by FBI agents in 1985 and held since. 
Transportation Minister Yisrael Katz (Likud-Yisrael Beytenu) also denounced the hypocrisy of the reports Sunday morning.
"Now the secret has been revealed: the US systematically spies on the political-defense leadership of the State of Israel," Katz stated. "Is this how allies behave toward each other?"
Katz noted that "Pollard was arrested for a lot less" than the US's extent of spying on Israel, and stated his intentions to call on the US to release Pollard and stop surveillance on Israel immediately during Sunday's Knesset meetings. 
Friday's news that the US had been routinely spying on Israel stemmed from some of the myriad documents released by NSA whistleblower Edward Snowden. The documents revealed that both the US and Britain had been spying on current and former Israeli Prime Ministers, via email tacking and other means. 
The report is also the latest in shocking revelations about the extent of the US's spying on both world leaders and ordinary citizens. Israel, in particular, has been a frequent target of spying, and the latest news confirms fears that the US is trying to manipulate Israel's policies from across the Atlantic.