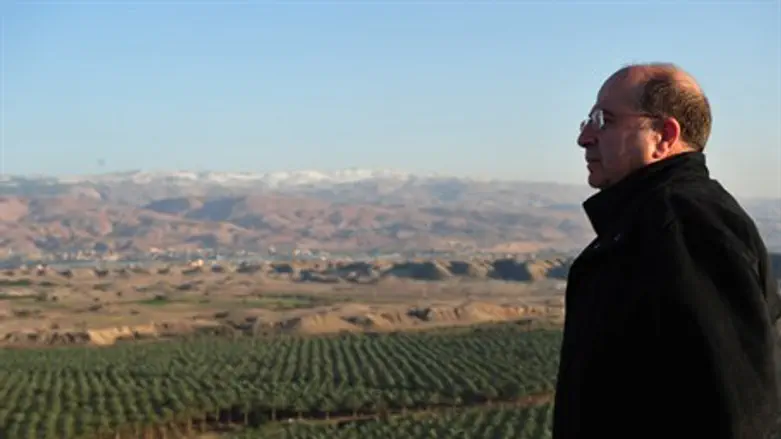 Defense Minister Moshe Yaalon tours the Jorda
Flash 90
The Lebanese army has arrested the soldier who shot and killed IDF soldier Shlomi Cohen near the border on Sunday night, Defense Minister Moshe Yaalon said on Tuesday evening.
Yaalon's comments were made during a tour of the Jordan Valley.
"This is a serious incident and the Lebanese government and the Lebanese army are responsible for this," he declared, adding that there had been a meeting on Monday between the liaison officers of the Lebanese army and the IDF, attended by members of the UN Interim Force in Lebanon (UNIFIL), during which the Lebanese army reported the findings of its investigation of the shooting incident.
"Apparently he was a rebellious soldier who made a decision on his own to leave his post, open fire at our military vehicle and unfortunately kill Master Sergeant Shlomi Cohen," Yaalon added.
The Defense Minister further stated that the Lebanese soldier, who turned himself in Monday morning, was questioned by the Lebanese Army and Israel has been assured that he will be punished "in accordance with the punishment handed out to those who go beyond what is permitted for a soldier to do."
Yaalon was asked whether Israel is demanding that the Lebanese government try the soldier who shot Cohen.
"That's obvious," he replied. "First of all they arrested him. During yesterday's conversation between the liaison officers we demanded that they take care of this soldier as any rebellious soldier would be treated and inform us of the results. The Lebanese army and the Lebanese government are responsible for their sovereignty and are responsible to ensure that our sovereignty is not violated."
UNIFIL indicated following Monday's meeting that the border shooting appeared to be "an individual action."
In a statement UNIFIL said that the participants at the meeting "discussed concrete steps to strengthen the existing security arrangements along the Blue Line (border) to prevent the recurrence of such incidents."
The United Nations Security Council on Monday "deplored" Cohen's killing and welcomed action already taken to investigate the incident.