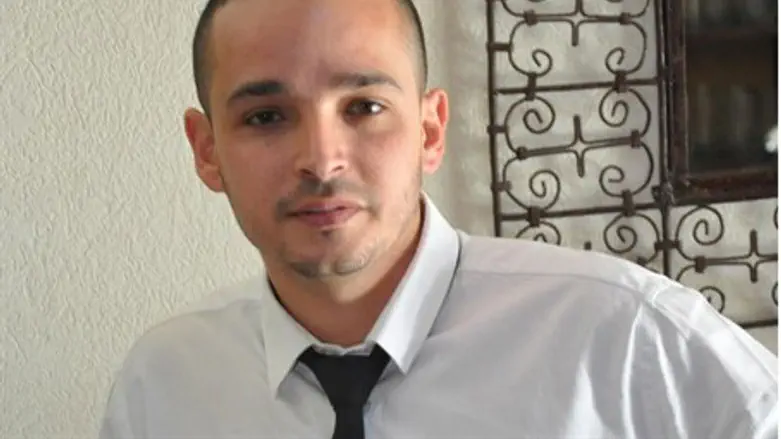 Master Sergeant Shlomi Cohen
Courtesy of the family
Relatives and friends of Master Sergeant Shlomi Cohen, 31, who was killed Sunday by a Lebanese Army soldier, arrived at his family's home Monday to comfort his widow.
Shlomi was a permanent professional corps (Tzva Keva) NCO in the IDF Navy.
He lived in Afula, in the Galilee, with his wife and their seven-month-old baby girl. 
"He was a unique family man, an exemplary husband and father," said a relative.
Shlomi's father, Yossi, describes his son as "the flower of the family. An amazing child, an amazing father, an amazing husband. I have no words. It has fallen on us and we are in great pain."
Yossi also demanded to know why his son had been exposed to what he saw as an unnecessary risk.
"We want answers, as to why he was sent in an unarmored car to drive along the border fence, alone without accompaniment," he said.
Relatives of the widow said that she refuses to accept the tragedy. "She is broken."
Master Sergeant Shlomi Cohen's funeral will take place at 5:00 p.m. At the military cemetery in Haifa.
Cohen was killed after a Lebanese soldier fired several shots at the vehicle he was traveling, fatally wounding him. The killer handed himself in this morning after spending the night hiding in a forest.
The IDF said it had "heightened its state of preparedness" and would maintain its "right to exercise self-defense" following the shooting death of Master Sergeant Cohen.
Defense Minister Moshe Yaalon said the shooter was understood to be "a Lebanese soldier".
"We hold the Lebanese government and Lebanese army responsible for what happens on their side," he said.
Yaalon confirmed Israeli and Lebanese liaison officers would meet with UNIFIL to investigate the incident later on Monday.
"We will demand of the Lebanese army to explain exactly what happened and if this is a case of a soldier acting on his own initiative, what was done with him and how the Lebanese army plans to prevent a recurrence of such events," he said.
"We will not tolerate a breach of our sovereignty on any border, especially not the Lebanese one."
Meanwhile UNIFIL, the UN peacekeeping force in southern Lebanon, will chair an urgent tripartite meeting Monday with senior Israeli and Lebanese military officers, over what the IDF condemned as an "outrageous breach of Israel's sovereignty".
"We will not tolerate aggression against the state of Israel and maintain the right to exercise self-defense against perpetrators of attacks against Israel and its civilians," declared IDF spokesman Lt. Col. Peter Lerner.
Sources in the border town of Naqoura where the incident took place told Lebanon's Daily Star the meeting at the UN peacekeeping headquarters was likely to start at 2:00 p.m.