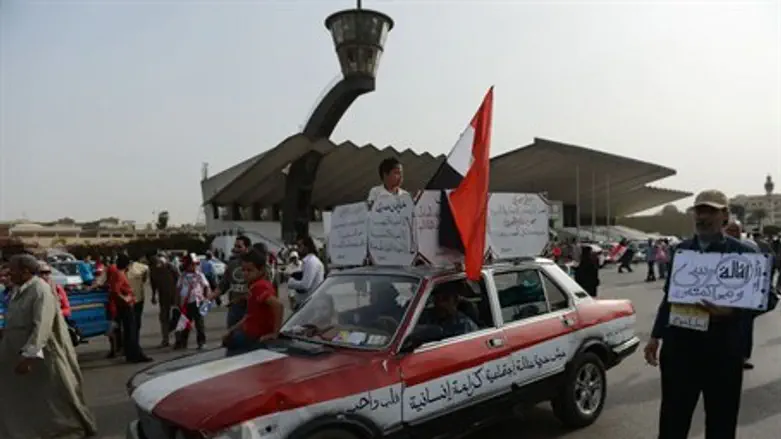 Egyptians show support for military
AFP photo
A referendum on Egypt's draft constitution will be held on January 14-15, Egypt's interim President Adly Mansour announced on Saturday, according to Al Arabiya.
"I call upon you to vote in a referendum on the draft revised constitution on January 14 and 15," Mansour said in a speech to the nation, accompanied by high-ranking officials and those who drafted the new charter.
The new constitution will be the first step in the army's political transition plan that should conclude with parliamentary and presidential elections next year.
Mansour praised the revised draft for its provisions on the "securing of human rights, freedoms and the balancing of powers".
"It is a good start on which to build the institutions of a democratic and modern state," he said, according to Al Arabiya.
The widely-awaited announcement was made in the presence of the 50-member committee which drafted the charter, as well as top state officials including Prime Minister Hazem el-Beblawy, his cabinet, members of the Supreme Judicial Council, and representatives of al-Azhar and the Coptic Church, the state news agency reported.
The new constitution was drafted after the interim military-installed authorities suspended the previous charter written under the Islamist former president, Mohammed Morsi.
Egypt's first democratically elected president was ousted by the army on July 3.
The revised charter, approved several weeks ago, preserves the military's wide-ranging powers, including the ability to try civilians in certain cases. This has angered secular groups that backed the military in ousting Morsi.
Other articles include one stipulating that Islamic sharia law will be the main source of legislation, as was also the case during the regime of toppled ruler Hosni Mubarak.
Another main article of the new charter forbids the formation of religious parties or parties based on religious grounds.
One article says that "no civilian can be tried by military judges, except for crimes of direct attacks on armed forces, military installations and military personnel." Secular artists have demonstrated against this provision, saying it could be applied to protesters, journalists and dissidents.
Amr Moussa, the chairman of the 50-member panel, has defended the document, telling the Associated Press(AP) recently the draft constitution guarantees democracy and freedoms.
"This is a constitution that answers to the requirements of the 21st century," he said. "The constitution is very clear on democracy and freedoms."
Moussa defended the powers given to the military, saying Egyptians must stand behind the military.
"The armed forces are widely respected and are being attacked. They lose soldiers and officers every day," he told AP. "There is a consensus that we are going through very dangerous circumstances. The army is under attack and we all have to stand firm behind it."
The Muslim Brotherhood was quick to reject the new constitution due to the fact that it preserves the military's wide-ranging powers, including the ability to try civilians in certain cases.