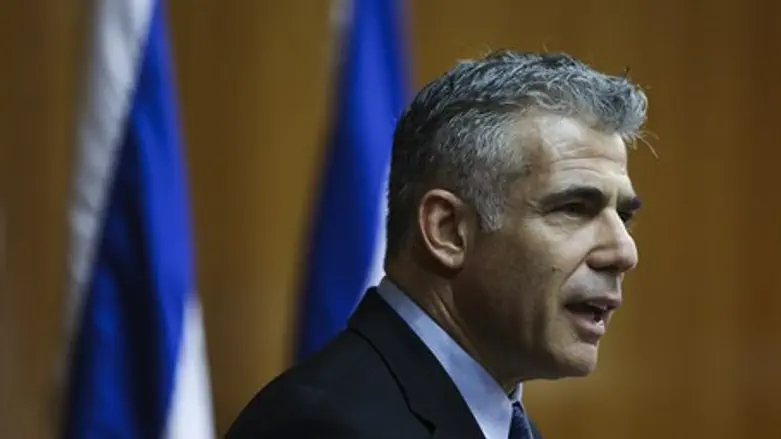 MK Yair Lapid
Flash 90
The controversy over MDA's rejection of an Ethiopian-Israeli MK's blood donation continued Thursday with a backlash against Finance Minister Yair Lapid, head of the Yesh Atid party.
Lapid expressed outrage over the fact that MK Penina Tamano-Shata, a member of his party, was unable to donate blood because she lived in Ethiopia as a young child. "We've been talking about it all day, trying to figure out together how it can happen in Israel of 2013, that a Magen David Adom (MDA) volunteer tells her that her blood will not be taken because she's from Ethiopia," Lapid wrote on his Facebook page.
"Whoever needs to be fired over this, will be fired," Lapid warned.
Those words may well come back to haunt him, however, as critics have pointed out that the criteria for accepting blood donations are set by the Health Ministry, which is currently under the leadership of Health Minister Yael German - who is a member of Lapid's own party.
MDA officials in particular expressed upset, accusing Yesh Atid leaders of portraying their organization as racist simply for abiding by the health precautions that the Health Ministry had set forth.
MDA does not accept blood donations from those who have lived in countries with a high HIV/AIDS rate, including Ethiopia and South Africa. It rejects donations from former residents of Britain as well, due to fear of Mad Cow Disease (BSE), and from Israeli backpackers who have visited select countries, including India.
MK Tamano-Shata argued that the restriction is unnecessary in the case of Israelis from Ethiopia who have lived in Israel for most of their life. Tamano-Shata, 32, has lived in Israel since age three.
Tamano-Shata, too, came under criticism Thursday for her role in the affair. She had previously been accused of attempting to give blood solely in order to film the MDA representative's refusal - now, a Haaretz journalist has noted that she was involved in a similar incident in the past.
Journalist Chaim Levinson pointed to a Globes article from 2007 regarding an incident in which the freshman MK – then a recently graduated law major – accused a store owner of racial discrimination after he refused to serve her. Her claim fell flat when it was revealed that she had questioned the store owner at length about his baked goods, only to decide to purchase just two burekas, asking him to weigh each one separately.