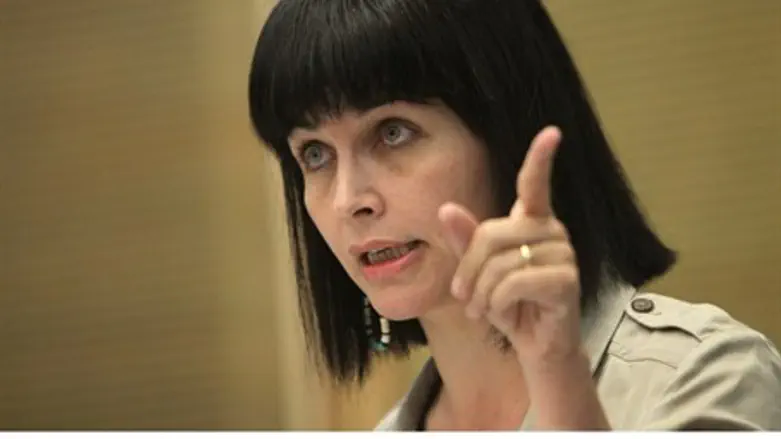 Former Labor MK Einat Wilf
Flash 90
On Tuesday, former Labor MK Einat Wilf complained on her Facebook page that she was the victim of "intolerance," after far-left Peace Now's leadership decided to exclude her from a panel in its third annual "Conference of the Israeli Left" to be held this Friday.
According to Wilf's post, she had been invited to speak at the conference "on a panel discussing whether international pressure on Israel is necessary to promote peace." While she had initially been told her viewpoint opposing such pressure would be welcomed, Peace Now head Yariv Oppenheimer disinvited her Monday.
Oppenheimer reportedly told her the decision was due to her membership on the International Advisory Council of NGO Monitor, a membership she shares with Elie Wiesel and Alan Dershowitz.
Wilf criticized the exclusion, remarking on "the inability of those who preach tolerance to hear a point of view that is not their own."
NGO Monitor has been a sharp critic of foreign-funded Peace Now, exposing how the group appears to be advancing foreign agendas and hurting Israeli interests. Just last month Oppenheimer expressed how "proud" he was after triggering American pressure on Israel to cancel Judea and Samaria building plans.
Wilf became a Labor MK in 2009, later breaking off from the party with Ehud Barak in 2011 as part of his short-lived Independence party. The party dissolved in 2013 when Barak retired.
"If the Israeli Left has no place for those who support a two-state solution and who also wage battle against those who seek to delegitimize Israel, it will not return to lead the country," Wilf warned in her Facebook response to the decision to exclude her.
Wilf added "Israel is under attack for its very legitimacy and the human-rights discourse serves various groups to undermine the foundational idea of Zionism that the Jewish People have a right to a sovereign state in their ancestral homeland."