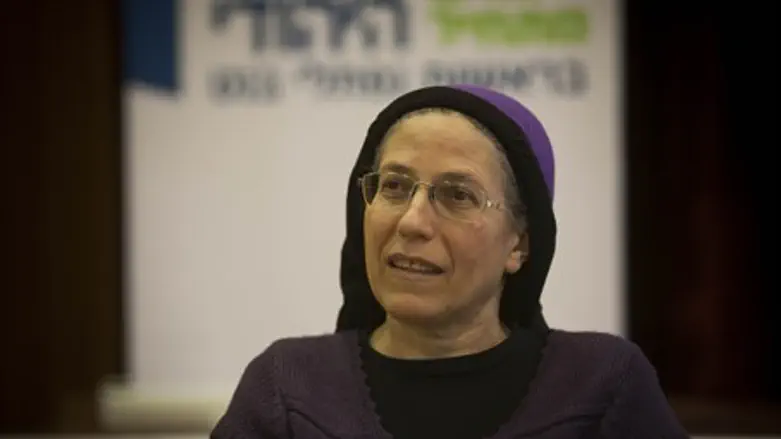 MK Orit Struk
Israel news photo: Flash 90
The Knesset held a special session Tuesday to mark international Human Rights Day.
MK Yoni Chetboun (Jewish Home) opened the session with praise for South African leader Nelson Mandela, who passed away last week. Mandela was a "freedom fighter," Chetboun said.
Chetboun also focused on the question of human rights for Israelis living in Judea and Samaria (Shomron), east of the 1949 armistice line. "Those living in Judea and Samaria shouldn't face discrimination just because they are 'settlers,'" he said. "The dialogue regarding human rights is not a political debate."
MK Orit Struk (Jewish Home) also called to improve Israel's human rights record regarding residents of Judea and Samaria. She brought up findings from the Levy Report, which criticized many government practices in the area.
"For instance, the right to a fair trial. The report revealed that in a land dispute, the person who decides is a military commander. Even though it is a matter of civil law. Nothing has changed since the report was published," Struk said.
Jews living in Judea and Samaria have had their homes and farms destroyed in land disputes even in cases where the other party did not bring any proof of ownership.
"Regarding property rights, too," Struk said. "A person bought the Machpelah House in Hevron, but cannot live in it."
"The report revealed a reality of systematic denial of human rights to residents of Judea and Samaria," she concluded. Struk also noted that the Levy report found that Israelis are allowed to live in Judea and Samaria under international law.
MK Masud Ganaim (Ra'am Ta'al) criticized Struk's speech. "I don't understand why MK Struk is mentioning a report which showed more than anything the system by which settlers occupy the occupied territories," he said. "On Human Rights Day of all times."