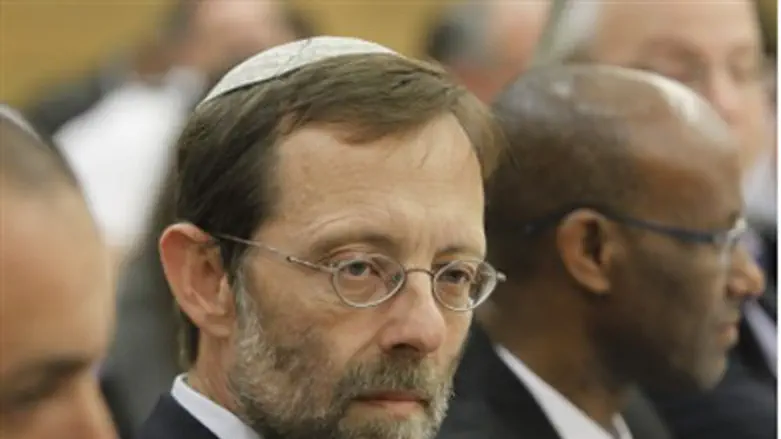 MK Moshe Feiglin
Israel news photo: Flash 90
Deputy Knesset Speaker Moshe Feiglin (Likud) sent out a letter to ministers Friday condemning the advancement of his medical marijuana bill under the supervision of Health Minister Yael German, claiming the move would "invite corruption" and ultimately harm patients. The bill is expected to be voted on in the Knesset Sunday. 
Feiglin originally proposed the bill, which would allow the drug to be prescribed by general practitioners. In October, the proposal was approved for the next stage in legislation by the Ministerial Law Committee - under the condition that it would be resubmitted with modifications within 45 days.
MK German was supposed to have amended the proposal to address concerns from professionals and Knesset members to include close regulation of the drug. However, 45 days will have passed by the end of next week and the bill has not yet been submitted to the committee. 
On Wednesday, Feiglin was approached by German asking to put off the vote for another 10 days. Feiglin responded by sending out the letter and asking for another meeting on the matter to be conducted Sunday - and also demanding from German that she present a draft to him immediately with the corrections to Feiglin's original plan. German refused. 
Feiglin attacked the new proposal, which is said to put greater restrictions on marijuana's prescription and use for pain relief, as "drowning the patient in an impossible bureaucracy" and "inviting incredible corruption" into the diagnostic process. 
'When examining the new proposal, it is obvious that in the shuffle [of the law between departments], there emerges no hope for change in the current system," Feiglin writes. "The bureaucracy continues to impose incredible difficulties on patients to receive treatment, and that will not change; it may even get worse."
"Officials - some without medical degrees - will continue to decide who will live and who will die," the MK continued. He lambasted the program's call for a nationalized body to regulate the production and sale of the drug, which would raise prices prohibitively high and prevent patients from receiving treatment. Feiglin condemned the initiative to monopolize the market as "horrific" and as a "throwback to Communist regimes of the past."