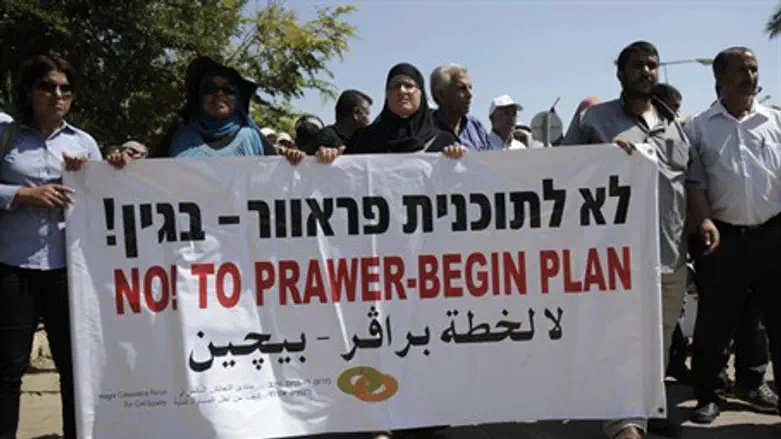 Bedouin protest against Prawer plan
Israel news photo: Flash 90
Four Arab MKs have sent a letter to U.S. Secretary of State John Kerry, asking him to pressure Israel to stop the Prawer-Begin Plan to organize Bedouin residence in the Negev.
The Palestinian Authority-based Ma'an news agency reported about the letter on Thursday, identifying the four MKs who sent it as "Palestinian members of the Israeli Knesset."
The four were identified as Ibrahim Sarsour, Ahmed Tibi, Masoud Ghanayim, and Talab Abu Arar. According to Ma'an, the four wrote to Kerry that the plan essentially amounted to "ethnic cleansing" of the Negev Bedouin.
The Prawer-Begin bill will give Negev Bedouin, who have set up many illegal settlements on state land, 180,000 dunams (45,000 acres) of state land for free, to set up farming or urban communities, as well as granting them "compensation" for the state land many of them are currently squatting on.
Arabs and leftists oppose the bill as it would move 30,000-40,000 Bedouins from their illegal outposts and villages, and demolish 40 illegal settlements.
During a heated debate which preceded a vote on the bill in June, Arab MKs got up to the podium and tore up the bill. Tibi was not satisfied with the symbolic act of tearing up the proposal and also poured a glass of water on the torn paper, while another Arab MK, Afou Agbaria, publicly called for an Intifada (violent uprising).
The four MKs who wrote to Kerry wrote that Amnesty International's Middle East and North Africa director Phillip Luther and United Nations High Commissioner for Human Rights Navi Pillay have denounced the Prawer Plan.
The plan would urbanize the traditionally agriculture-savvy Bedouin, thus putting "an end to their historic way of living," they claimed.
They also claimed that Israel has destroyed 200 Bedouin homes in the Negev since 2009.
Last week, Negev Bedouin held a "Day of Rage" over the plan, during which rioters threw stones at police forces that arrived at the area. Tibi was caught on video trying to prevent the detainment of a boy who had taken part in the violence.
Tibi also slammed Foreign Minister Avigdor Liberman, who had denounced the violent riots, and called him "a fascist immigrant who stole Arab land."