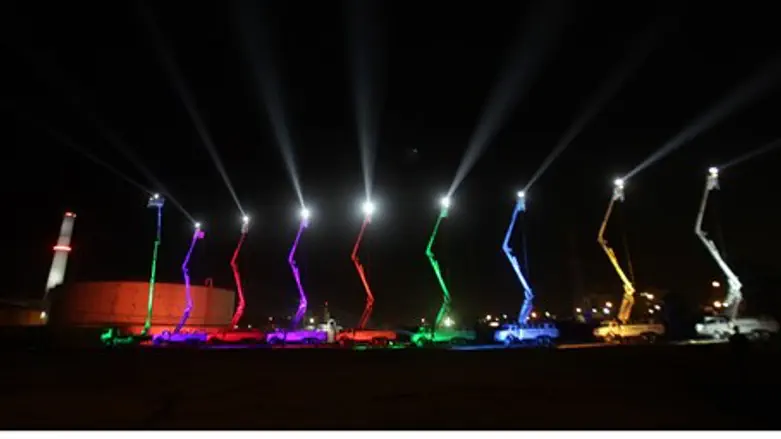 World's highest hanukkiah
Yossi Wein, Spokesperson for IEC
The Israeli Electric Company (IEC) lit the world's tallest hanukkiah Wednesday night, across from the Reading Power Station in Tel Aviv. 
The lighting ceremony was attended by Silvan Shalom, the Israel's National Infrastructure Minister; Yiftah Ron-Tal, Chairman of the Board of the IEC; Eyal Neifeld, an Electric Company worker who was blinded in a terrorist attack on Mount Meron; Eli Glickman, CEO of the IEC; and other dignitaries. 
Shalom stated at the lighting, "I am proud to light the highest hanukkiah in the world. This is a special event; the size and strength of the hanukkiah symbolizes the power of the State of Israel on its way to becoming an energy power. I wish you all a Happy Hunakkah and may we continue to brighten together every Israeli home."
IEC CEO Eli Glickman said, " the Electric Company is proud to light the highest hanukkiah in the world, made from platforms which are every day to assist electric workers to reach the height of their lines, to provide routine and emergency power during stormy weather and under rocket fire during wartime."
"Reading Power Station is part of the history of the city of Tel Aviv. It is one of the first power plants to have undergone natural gas energy production and is a symbol for the coming years of a sustainable, clean air and green environment."
The hanukkiah will remain lit until midnight, and is expected to light up the skies of Tel Aviv and Gush Dan. The hanukkiah consists of 9 Platforms of IEC, one portable solar platform height of 28 meters and 8 Platforms at 22 meters.
The cranes lifting the platforms were illuminated in different colors and which left nine beams of white light, extending about 10 miles high, and can be viewed from across the Gush Dan region. The Company has filed the project to Guinness World Records.
Earlier this week, Israel also unveiled the world's tiniest hanukkiah, built by technicians from Hebrew University in Jerusalem. The hanukkiah is not visible to the naked eye and measures only about 100 nanometers,