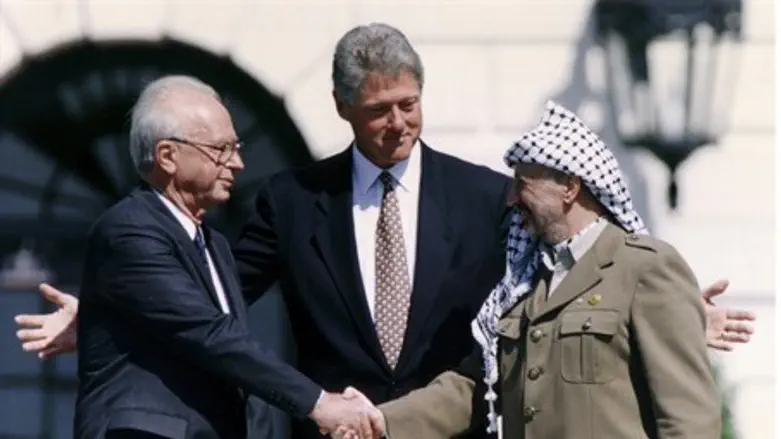 Yitzchak Rabin and Yasser Arafat shake hands
Reuters
About 40 Norwegian Christian leaders and clerics held a special ceremony in the Knesset Wednesday to formally apologize on Norway's behalf for their role during the Holocaust and the 1993 Oslo Accords.
The delegation featured representatives from 21 different organizations, who were greeted by Knesset Christian Caucus members MKs Rabbi Dov Lipman (Yesh Atid) and Gila Gamliel (Likud). The representatives then delivered a speech expressing support for Israel, as well as reservations about the Oslo Accords, which they claimed "rips apart the Land of Israel."
The 1993 Oslo Accords were the meetings first held to facilitate peace talks, which failed, between Israel and the Palestine Liberation Organization (PLO), which is the power behind the Palestinian Authority. Instead of ushering in peace, the accords - which gave the PLO/PA control over large portions of Judea and Samaria, as well as weapons and military training to "enforce law and order" there - are widely seen as having enabled a wave of terrorist attacks which killed scores of Israeli civilians, culminating in the so-called "Second Intifada", which killed more than 1,000 Israelis - most of them civilians.
It is also seen as having granted the PA the international legitimacy to embark on a campaign to isolate the Jewish state diplomatically.
The representatives hailed from across Norway, and included a delegation from the indigenous Lapp (Sami) population. The meeting was organized by the International Christian Embassy in Jerusalem.
Chairman of the International Christian Embassy in Norway, Doug Aoibind Juliussen, stated "We Christian leaders in Norway, want to apologize and ask for forgiveness from the Jewish people for Norway's attitude towards you from the Holocaust through Oslo Accords and until this day."
The Chairman of the Knesset caucus to promote relations with Christian communities around the world, Josh Reinstein, told Arutz Sheva at the end of the visit that "the Christian leaders apologize for anti-Semitism... the Oslo agreement, and the boycott Norway supports [against Israel]."
He continued that the process of asking for forgiveness "is just, and there are many more countries which need to ask for forgiveness" and emphasized that the point is not just to apologize, "but to work for the benefit of the State of Israel." 
MK Gila Gamliel said at the end of the event, "As chairman of the caucus, I see at all kinds of international conferences much love from Christians who love Israel. Leaders in Norway come today for the first time to the Israeli Knesset asking forgiveness for a long list of Norwegian involvements against Israel, ranging from the Holocaust through the Oslo accords and donations to terrorist organizations which support the boycott against Israel."  
Gamliel concluded, "I believe it comes from the bottom, and that it will continue in the leadership (on upward). We are on the right path."