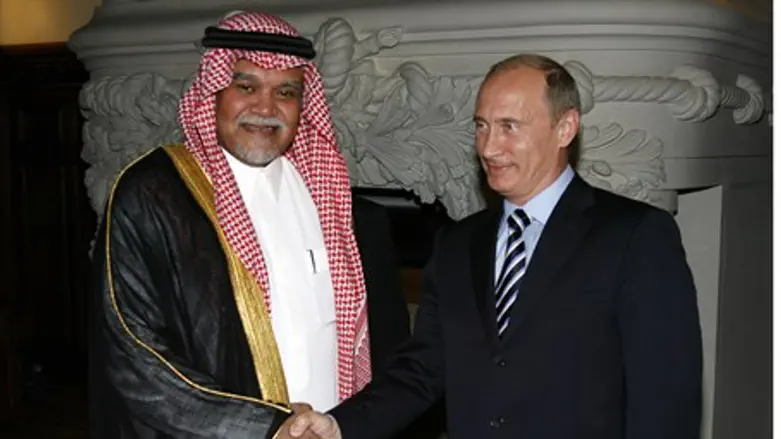 Vladimir Putin meets Prince Bandar
Reuters
Russian President Vladimir Putin met with Saudi intelligence chief Prince Bandar Bin Sultan in Moscow on Tuesday. In talks the two reportedly focused on the Syrian crisis and Iran nuclear deal, while strengthening ties between Russia and Saudi Arabia.
The meeting comes as long-time US ally Egypt recently sealed a $4 billion arms deal with Russia largely funded by Saudi Arabia, which itself has experienced cooling relations with the US and reached out to Russia. In a November phone call Putin and Saudi King Abdullah vowed to advance bilateral cooperation.
During the course of talks the two discussed the "positive dynamics of the Iran nuclear program settlement," as well as the impact of Geneva II talks on Syria, as reported to Bloomberg by Putin's spokesman Dmitry Peskov.
According to Fyodor Lukyanov, head of the Council on Foreign and Defense Policy in Moscow, the Saudis are looking to diversify their foreign relations and are turning to Russia as the "most active player" on the Syria issue.
"Saudi Arabia is furious with the US for threatening to attack Syria and then not carrying that out, as well as for its rapprochement with Iran," comments Lukyanov, adding, "Saudi Arabia can help Russia with a resolution in Syria because if anyone can influence the Syrian opposition, it's the Saudis, not the Americans."
The two topics of Syria and Iran that dominated the talks are not unrelated, as the Saudis, who support the opposition forces, have been at odds with Iran over its support for Syrian President Bashar Assad.
Furthermore, a senior advisor to the Saudi royal family in late November said that his country was "lied to" by the US in the Iran nuclear deal, and that as a result they would be taking an "independent policy." Reports also revealed that the Saudis could quickly obtain nuclear weapons from Pakistan i pressed by Iran's nuclear development.
Meanwhile Iranian Foreign Minister Javad Zarif on Sunday said his country was looking to start a "new page" in relations with Saudi Arabia.
Putin and Bandar previously met in July, when Bandar reportedly asked Putin to stop supporting Assad, warning him the situation would shift in the rebels' favor, reports Al Arabiya.