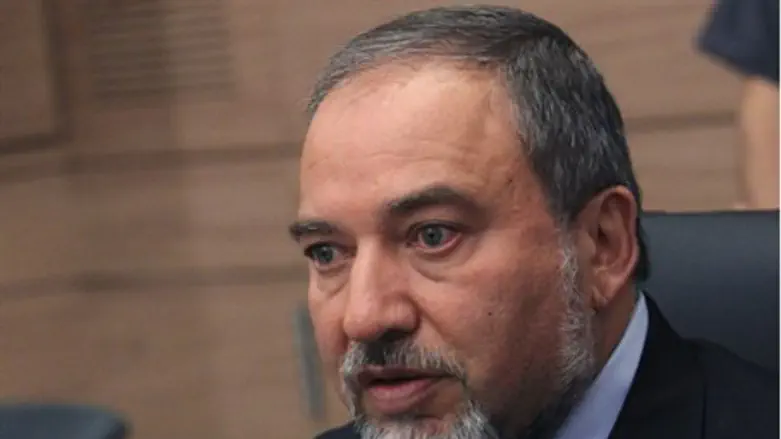 Avigdor Liberman
Flash 90
Foreign Minister Avigdor Liberman will be flying to Washington this week to talk with US Secretary of State John Kerry after peace talks resume, AFP reports Tuesday.
Liberman will also be meeting with UN chief Ban Ki-Moon and give an address at the Saban Center for Middle East Policy, deputy minister Ze'ev Elkin announced in an IDF Radio interview. 
Kerry is expected to visit Israel Wednesday to resume talks between Israel and the Palestinian Authority, and many believe that he will put immense pressure on Prime Minister Binyamin Netanyahu to submit to demands to release more terrorists and retreat to the 1949 Armistice lines. 
Last month, Kerry's visit was a diplomatic disaster for US-Israel relations, when he offhandedly threatened a "third intifada" if talks failed, and called Israel's rights to build Jewish homes in Judea and Samaria "illegitimate." Relations were strained further in the aftermath of last week's Iran deal, when the US and other Western powers exchanged the lifting of economic sanctions in Iran for a limited scaling back of its nuclear weapons program.
Israelis want "less dependency" on US
Meanwhile, a Walla! report Monday revealed that recent developments have pushed most Israelis to believe that Israel should lessen its dependency on the US - or even break away from a diplomatic relationship entirely. The Peace Index survey was conducted Israel Democracy Institute in cooperation with the Evans Institute at Tel Aviv University.
The survey's results reveal that over half of Israelis believe that Israel needs to back away from its dependency on the US, and that Israel needs to find a different top ally among Western powers. 
The survey shows that the nuclear agreement signed with Iran in Geneva, and the U.S. position in negotiations with the Palestinian Authority has taken a great toll on Israelis' confidence in the US in general. About 45% of the public does not trust the United States; but while over half of Israelis believe that Israel should find another ally in Middle-Eastern affairs, at least 70% of Israelis believe that the chances of that coming to fruition are extremely low. 
Despite the negative attitudes towards current US-Israel relations, 72% of the Israeli Jewish public thinks that the United States is still the most loyal ally of Israel since 1967, and almost 80% believe that Israel's existence depends at some level on American support.
On the subject of the Iranian nuclear program, 81% believe that the interim agreement between Iran and P5+1 will not stop Iran's nuclear weapons program, and 66% approved of the way Prime Minister Binyamin Netanyahu has handled the crisis. 
The numbers follow reports that despite the diplomatic crisis, Israeli officials are publicly trying to repair US-Israel relations in order to be ready for the possibility of a nuclear Iran. 
Finance Minister Yair Lapid reiterated on Monday that closeness with the US is Israel's greatest asset in dealing with Iran, stating, "We understand that the United States wants to good and has done the best under complicated circumstances, and we believe that we have earned the right to be the ones who listen to them." 
Liberman himself was critical of the Iran deal when the news broke Sunday, but also stressed that the US and Israel are still great allies.