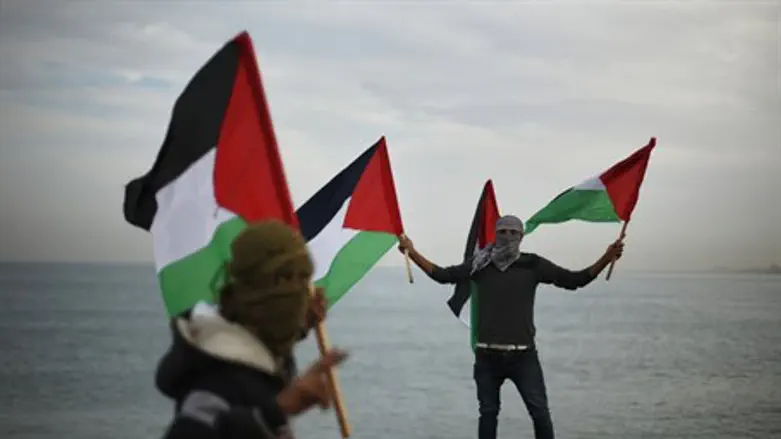 Radical activists on the Gaza "reverse flotil
Reuters
Around 20 Gaza fishing boats carrying several dozen radical activists on Monday claimed to have broken Israel's naval blockade on Gaza - a claim which the IDF has refuted. 
The "resistance flotilla," which according to at least one Arab news source held about 200 people, was at sea for several hours before returning with the claim it had "broken" the blockade.
"We have sent a message of solidarity with the fishermen and a message to the world that they must act to end the Gaza blockade," said Shorouq Mahmoud, the group's spokeswoman, as reported by Voice of America.
Arutz Sheva reached out to an IDF spokesperson, who confirmed reports that the vessel never reached the six-mile limit. The IDF therefore was not forced to intervene, the spokesperson said. 
The flotilla was the initiative of a group called Shabab al-Intifada (lit. Youth of the Intifada), whose intent is allegedly to "break the naval siege of Gaza." According to Voice of America, Palestinian Arab fishermen behind the flotilla effort say they cannot meet demand in Gaza due to Israel's naval blockade on the territory and limit of six nautical miles (11 km) in which they can take out their boats off shore.
As AFP notes, the boats had been aiming to put a new spin on attempts to break the Israeli blockade by sailing out of Gaza rather than trying to get in.
Israel first imposed its blockade on Gaza in 2006 when terrorists kidnapped Gilad Shalit. It was further tightened when Hamas seized control a year later but has since been eased following international pressure, although certain restrictions remain in place. 
Israel has faced much criticism over the blockade, despite being proven legal under international law by the UN in 2011 and despite the fact that Israel allows a great deal of humanitarian aid to flow into a region controlled by the terrorist organization bent on its destruction.  
Gaza has been facing a large deficit since relationships between Hamas and Egypt soured this past July. Then, the pro-Hamas Muslim Brotherhood administration was overthrown, and Egyptian officials destroyed several tunnels leading from Egypt through the Rafah border crossing.
The result has been an electricity shortage, leading Gazans stripped of some resources and demanding international aid.