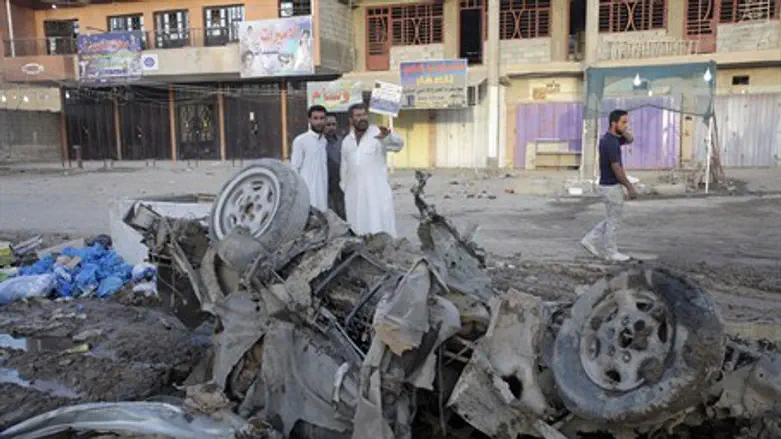 Illustration: Aftermath of a suicide bombing
Reuters
Last Friday 18 corpses were founded murdered in execution-style killings in Baghdad, in what appears to be part of a new wave and shift in tactics that has many fearing an all-out sectarian war in Iraq.
Nickolay Mladenov, special representative of the UN secretary-general for Iraq, sharply decried the executions, saying "I am profoundly disturbed by the recent surge in execution-style killings that have been carried out in a particularly horrendous and unspeakable manner."
Overall the bodies of 31 men, women and children shot in the head were found in separate places around Baghdad last week, a wave of execution murders which Al Jazeera notes recalls the height of sectarian violence in 2006-2007.
While UN figures show that the 659 death toll in November has lowered from the 979 killed in October, Mladenov's spokeswoman Eliana Nabaa commented that the decline is due to a shift in tactics towards targeted killings with less mass casualty bombings.
Sometimes the two tactics unite.
On Sunday, a suicide bombing at the Wajihiya village graveyard ripped through the funeral procession of an anti-Al Qaeda fighter who was killed Saturday, reports Al Jazeera. The blast left 17 dead and injured many others.
The fighter who was being buried, Mudher al-Shallal al-Araki, was part of the Sahwa ("Awakening") group of Sunni fighters that sided with US forces against Al Qaeda, leading Al Qaeda to regard the group as traitors and target them in attacks. Al-Araki's father was a leader of Sahwa.
UN figures estimate that 7,157 civilians and 952 security force members have died in sectarian violence in Iraq so far this year.
The latest spree of execution killings comes ahead of Iraq's first parliamentary elections in four years on April 30, 2014.